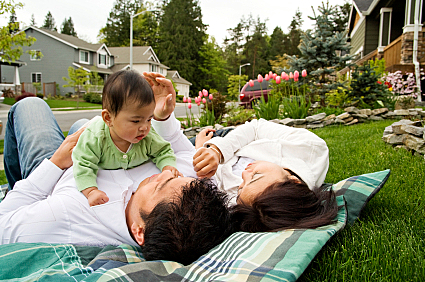 When space gets tight in the city, many moms consider a move to the suburbs. Does such a move make sense to you?
In our recent teleclass, city moms listened in as Heather Harrison, Zach Harrison, and Jordie Wilk of Platinum Drive Realty – a firm that specializes in helping young families move to the suburbs – gave them the inside scoop on moving to the suburbs and living there. Participants learned about the communities, the homes and the lifestyle!
Our experts discussed such topics such as:
How do I know if I'm ready to move out of the city?
What are some key factors to consider in finding the ideal place to live?
What types of housing options are available for young families moving to the suburbs?
In case you missed it (or would simply like to have ongoing reference to this great information), here is a link to the teleclass recording.
Heather and Zach Harrison are the co-founders of our generous sponsor for this teleclass, Platinum Drive Realty, and have won numerous awards for their excellence in client service. Their firm has assisted over 100 young families make the move from the city to the suburbs and takes great pride in making the process an enjoyable, rewarding, and first rate experience. We will share our tips and strategies on making the best decision for you and your family.




Like what you read? Sign up for our free newsletter so you can be informed of the latest FREE webinars & teleclasses, parenting articles, & weekly raffles.
The views and opinions expressed on this blog are purely the blog contributor's. Any product claim, statistic, quote or other representation about a product or service should be verified with the manufacturer or provider. Writers may have conflicts of interest, and their opinions are their own.