Green spaces matter to your family's overall health and enjoyment.
Studies reveal the power of nature to inspire positive mood and creativity while free play grows a child's imagination and social skills.
Your child's age also impacts how they play and with what intensity. When your child enters their teen years, they want to entertain others, too! As your child grows, you should make modifications to your backyard that lets the whole family make the most of their energy and creativity.
Remove Unsafe Playground Equipment
You can't always take your child to the park, so you brought the park to them. Can they still slide down the slide and swing in the swing set safely? Did your child emotionally and socially outgrow the playground equipment?
Consider keeping the swings around, if safe, or getting more all-ages friendly play equipment. After all, more parks now include equipment for the elderly to blow off steam and exercise, and these are shown to improve their overall health. Imagine what a "fun park" would look like in your backyard, specific to your family.
Update the Tire Swing
Just because you grow up doesn't mean your inner child dies. The porch swing and tire swing are more than equipment — they're strongly linked to childhood memories and integrated into aspects of your child's identity.
Fix up the old tire swing tied to the big oak in your backyard. If you remove the old swing set from the yard, include a more stable swing in its place where you or your child might like to sit with a book or chat with a friend.
Protected Play and Family Areas
Children like to explore, and you want your child to be and feel safe in the backyard. Protect pets and children by adding fences around their play area and planting screen plants for privacy and shade from sunlight. Fences reinforce boundaries, point out property lines and add privacy, from nosy neighbors or hungry deer. A fence around a pool prevents falls and unauthorized access.
Add a white-picket fence or a chain link fence. Make it beautiful with paint, plants or art.
Classy and Fun Outdoor Entertainment Area
Don't get the chance to meet friends and family as much? Do your teens want to host their own bonfires or have friends over for burgers, mocktails or a Mad Hatter tea party? Imagine what a classy and fun outdoor entertainment area would look like for the whole family, and build it together:
Cooking: Set up a pro grill area with a fire pit. What if you create an outdoor oven for baking bread or pizza? How will you arrange tables and chairs for eating?
Bonfire area: Check neighborhood and county restrictions on open fires in your areas. You may have to keep the fire small, but more rural areas generally allow for bonfires.
Game and creativity station: Games and other creativity supplies are subject to weather conditions, so create a station sheltered from the elements where there's something for everyone to grab and go. Break out Jenga while cooking out on the grill.
Lighting: Everyone knows the right lighting makes for a great mood. You can't string up lights and hope for the best since you may create a fire hazard. Always install outdoor-rated lightbulbs, light fixtures and extension cords, and follow the proper wattage.
Seating: Repurpose old palettes to build bench sitting or upcycle old furniture and add rich textiles and fluffy cushions for comfort. Use color to add fun into the mix with paint and fabric.
Create A Sanctuary
Between school and work, everyone comes home tired and ready to fall into bed. Don't wake up to grumpy faces every morning. Create a backyard sanctuary for your family to retreat to when the stress adds up.
Build a vegetable garden together in raised beds or a small spiraling labyrinth with "soothing" herbal plants buried between the stones, such as lavender. Working with your hands and your senses cultivates mindfulness and brings you into the present.
What relaxes each member of your family? Does Mom prefer a glass of wine and good conversation? Do the kids like to read a book or play a game? Does Dad like to watch the bees buzz around the plants?
You may reach your pique height physically, but you never stop growing up. Your inner child doesn't die, either.
Use these suggestions to modify your backyard to fit your family as your kids grow into different interests, activities and social needs. Make it a place where you can come together as a family, express yourselves and find peace throughout the years.
---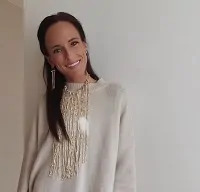 Kacey Bradley is the lifestyle and travel blogger for The Drifter Collective, an eclectic lifestyle blog that expresses various forms of style through the influence of culture and the world around us. Kacey graduated with a degree in Communications while working for a lifestyle magazine. She has been able to fully embrace herself with the knowledge of nature, the power of exploring other locations and cultures, all while portraying her love for the world around her through her visually pleasing, culturally embracing and inspiring posts. Along with writing for her blog, she frequently writes for sites like US Travel News, Thought Catalog, Style Me Pretty, Tripping.com and more! Follow Kacey on Twitter and subscribe to her blog to keep up with her travels and inspiring posts!