Whether you're a working mom or a stay-at-home mom (which, by the way, is still considered a working mom because, well, being a mom is work), it's often difficult to find that magic balance between the different aspects of your life. As a mom of four kiddos myself, I've experienced the draining pull first hand as well as spoken with countless other moms who ask the same thing: how do you avoid the drain?
If you're a mom, it's likely a moot point to explain the "drain" since you probably have a very intimate relationship with it. It just sort of comes with the territory of being a mom, unfortunately, but for the sake of being thorough here, I'll give you a basic rundown of what we're talking about.
The "drain" is basically that moment of every day when a mom has given so much of herself to every other aspect of her life, that she's physically and mentally incapable of doing much else other than, well, collapsing in bed. It's often to blame for a short temper at the end of the day, and also the guilt that follows from not having the patience she wished she had with her kids who seem to be hell-bent on making her show her crazy side.
How does it happen? Well, it varies from mom to mom – as does pretty much every aspect of parenthood – but it basically happens when moms give too much of themselves to too many different avenues of life. It happens. It's called life and it doesn't slow down so moms can take a bubble bath with a glass of wine at the end of every day. No matter how much we may wish it would. (Seriously – can we make that happen? Please?)
Have no fear, however, there are a few tricks of the trade that you can use if you find yourself feeling a bit out of balance between work and home. Before you find yourself completely burnt out and headed for a mental breakdown, take stock in where your stresses are and try these tips to simplify your life:
1. Focus on What's at Hand
The first rule of thumb is a matter of training yourself to truly be in the moment, no matter what time of day it is. If you're at work – be at work. Don't let your mind wander to things you should be doing at home or you'll find yourself frazzled by the diverted attention that will inevitably interfere with your productivity.
By the same token, when you're at home, be at home. Whether your day consists of being with the kids or working crunching numbers at the office, try to keep your focus on the task at hand – it will free up your mind from stressing out over too much at once.
2. Prepare for Your Day
It may sound counterproductive to spend time today thinking about and prepping for your day tomorrow, but trust us when we say it will make tomorrow much more enjoyable when you're prepared for it.
What does this mean, exactly? Do some meal preps for dinner, pack lunches, set out clothes for the day, get the kids' bags ready ahead of time, and keep your itinerary on hand so you know what and when to expect things as the day goes on.
3. Add the Kids in the Mundane Parts of Your Day
A lot of moms who work away from home have a bit of guilt about being away from their kids during the day. As a result, they tend to try and squeeze in all of their daily "chores" after the kids have gone to bed, which only serves to deplete even more much needed "me time."
Instead, realize there's no written rule that says the kids can't tell you about their day while helping put dishes away or pack their bags for tomorrow. You'll save valuable time you can spend catching up on some valuable Netflix binge watching later on.
Plus, there's the added bonus of teaching the kids valuable life lessons like how to multi-task and how to help out and do their part around the house. Bonus!
4. If You're Not Alone, Don't Operate as Though You Are
We realize this one doesn't help out the single parent much, but for those who are in relationships, remember that you're in one. Ask yourself this: if you have a partner, why are you trying to do it all by yourself anyway?
If you reach a point where you're feeling utterly drained at the end of the day, then you've reached the point where your partner should be stepping up their game to help out more. Ask for help. No really – do it.
5. Give Yourself a Needed Pat on the Back
When all else fails, remember that you're one heck of an amazing person and you deserve a pat on the back for all you're balancing every day. Being a mom isn't for the faint of heart, but try to remember that it gets easier as time goes on.
As the kids get older and routines get perfected, you'll settle into the groove of things and come out on the other side of the rainbow (preferably with a bottle of wine and a waiting bubble bath).
You've got this, mom. Just remember that. Take a deep breath, find some organization where you can, ask for help where you need it, and keep your head up. You're awesome!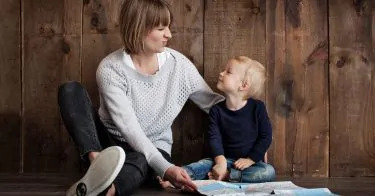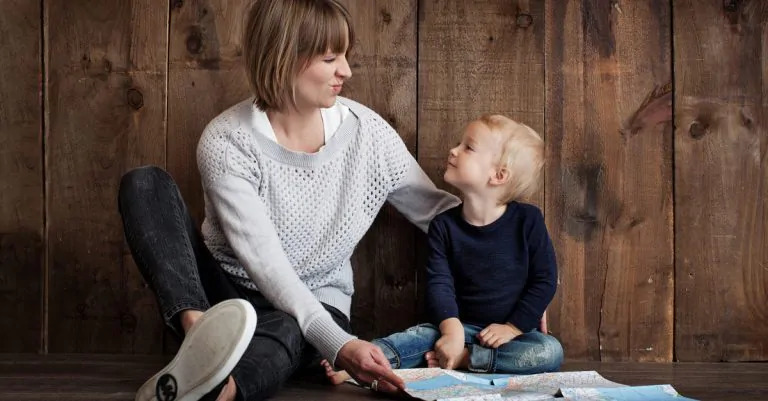 Read Next | Find a Great Nanny in and around New York City
Bullet points 6–10 are credited to Elsie Jones, from her 2010 article The Work-Life Juggling Act
6. Keep your kid's on a tight schedule.
Eating, napping, playdates, school, and classes are all scheduled at the same time every, single, day. I know it sounds boring but believe me if you need to know when to schedule a conference call or a when you can really concentrate on work, predictability is KEY.
7. Make one area of your home your work area.
It's off limits to EVERYONE else (even the husband, if possible). That way if your kiddos are around and you need to whip out a quick email or two, then they know when mommy's "at work" she's to be left alone (except if it's an emergency- a real one). Also because you tend to pick up and go at a moment's notice, you can be sure that letter you left on the top corner of your desk will still be there when you can get back to it.
8. Ask your significant other to pitch in
Your partner should pitch in with household duties from time to time. That can mean anything from they clean up the dishes when they get home to they run the washing machine in the morning before they leave. Laura (babybites' founder) has a fantastic deal with her husband where they have the "4 on 4 off" rule for Saturdays. One of them works for four hours while the other one has kiddo time and then they switch. It works really well for them to have those scheduled times with both their kids as well as with their work.
9. Take a night off a week!
Since I tend to work when my kiddos are asleep, I don't have a lot of "me" downtime. So I try to take at least one weeknight off per week where I just go sit at Starbucks for 2 hours and read trashy magazines. Or I go out to a theater show or grab dinner with a girlfriend. I know that one night is what I need to reconnect with me.
10. Get your kids involved in their own work
For example, have them color, create, read, or play quietly in an area close-by where you are. Set a timer for 15 minutes (obviously this would vary with the kiddo's age) and say they have to concentrate on their activity  until the timer buzzes. My kids LOVE this. They call it their work and have learned a great deal of respect for other people's need to have "personal" time.
Like what you read? Also check out our latest FREE online classes, parenting advice, jobs for moms, events, childcare listings, casting calls & raffles, and our Parents With Nannies Facebook group.
---
Jamie is a married mother of four – two girls and two boys. She is a children's book author and full-time mommy blogger for her site, Momma Juice and regularly guest blogs for other sites.