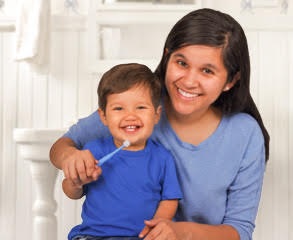 This free class is reserved for Mommybites Facebook fans only. Not a fan? No problem, just LIKE us on Facebook and scroll down to register.
Starting proper oral hygiene early is imperative to life long healthy teeth and gums. Caregivers play a crucial role in educating and training children to develop "good habits" but they often don't know how or where to start.
Please join Oral Care Consultant, Marisa Salas, on this important teleclass – generously sponsored by Baby Buddy – to learn:
How and when to Create the best oral health habits for babies and toddlers
The importance of prenatal dental hygiene
Milestone tools and oral care progression
What age to visit a dentist and what to look for in a pediatric dentist
Tips for teaching your child to care for themselves
Red flags for improper dental hygiene
Suggestions on toothpaste, toothbrushes and cleaning equipment for each age/stage
And more!
Generously sponsored by

Baby Buddy's creative, innovative & quality products are designed for you and your baby to have a best buddy every day. Baby Buddy accessories allow caregivers to organize closets, soothe and brush those precious teeth coming in, enjoy bath and meal time, and keep toys and pacifiers nearby and away from germs.

Marisa Salas, Oral Care Consultant, has a B.A. in International Studies from Long Island University. It is her mission to to educate clinicians, caregivers, retailers, bloggers, and educational facilities on proper oral health. Marisa has worked for the largest dental distributor worldwide, and has over two hundred and sixty hours of career development training, culminating with oral care training to aide in the success of hygienist and clinicians in all specialties. Prior to healthcare, she worked as a consultant for an environmental consulting and management firm. Her background helps her understand the correlation of systemic overall health and oral health, as well as how environmental factors may affect an individual's systemic wellbeing.

*You will receive dial-in information upon completing your registration.
Not sure if you can make the teleclass? Don't worry! Everyone who registers will receive a link to the taped call, so be sure to sign up.