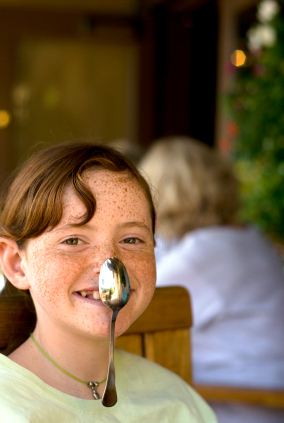 According to Emily Post, etiquette means "treating people with consideration, respect and honesty and being aware of how your actions affect those around us". Our facilitator, Dr. Kate Roberts, also believes that etiquette involves trying to make the people that you're with feel comfortable.
Today's parents are overwhelmed in their daily tasks, often multi-tasking and therefore less aware of their own shorthanded approach as they attempt to get each task accomplished in the shortest amount of time. Not taking time for connection during transitions can come across as insensitive and impolite, even if the intent maybe different on the part of the parent.
If we as adults are challenged to be polite, imagine how difficult it is for our children to learn good manners and yet it's as important given the limited time we have to connect.
 
This teleclass focuses on:
How parents can recognize their own contribution to poor etiquette
How they can teach good manners to their children and
What the very positive benefits are of practicing the discipline and art of etiquette in today's shorthand world.
 *Dial-in information sent upon completing your registration.
Not sure if you can make the teleclass? Don't worry! Everyone who registers will receive a link to the taped call, so be sure to sign up.
Our facilitator will be Dr. Kate Roberts, a child psychologist and parenting coach with over 25 years of experience. Based in Hamilton and Salem, she is a well-known expert in the field of parenting and child psychology, and has published a number of articles in professional journals and writes a bi-weekly parenting column in the Salem News; Dr. Kate's Parent Rap. Dr. Kate's unique coaching practice "helps parents, help their children". Her New Reality Parenting, is a coaching model that offers practical, targeted strategies that guide parents through the unexpected glitches of today's ultra crazed, fast paced everyday life. Her focused solutions take the stress out of overscheduled and bring a smoothness to even the bumpiest transitions. Contact her via email at [email protected] or phone 978-884-1213 .Visit www.drkateroberts.com, Facebook or Twitter.