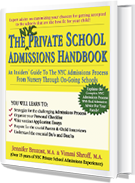 This free class is reserved for Mommybites Facebook fans only. Not a fan? No problem – just like us here before registering for this class.
NYC PEAS (Private Education Advisory Service), authors of the well-known The NYC Private School Admissions Handbook, will be offering a free teleclass on the ongoing school admissions process for Kindergarten.
During this informative teleclass, NYC PEAS will:
Advise families on what they could be doing now and over the summer to get ready for applying to schools.
Discuss the differences between traditional, progressive, single-sex and religious schools.
Discuss what to look for in a school when you go visit.
Discuss the application process including how to obtain applications.
Provide useful tips for essay writing and interviews
We will end with a question and answer session.
 Jennifer attended New York University and received her Master's degree in Education from Columbia University's Teacher's College. She taught second grade and has worked in the admissions office of a prominent New York City private school. She lives in Manhattan with her wonderful family.For more information you can log on to the website: PEAS
Vimmi completed her Undergraduate degree in Business and Economics in India. She has a Masters in Education from New York University. She taught at various private schools in New York City. She has worked as an admissions officer as well as a Director of Admissions at various New York City private schools.
Not sure if you can make the teleclass? Don't worry! Everyone who registers will receive a link to the taped call within 3-5 business days, so be sure to sign up.