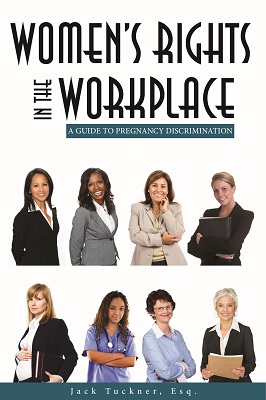 Pregnancy discrimination is illegal in every state in the union, yet it is thriving in workplaces all across the country. Many companies treat pregnancy as an inconvenience that costs them time and money. Too often, employers fire women when they become pregnant, or deceive them into resigning by misrepresenting the law, refuse to accommodate their pregnancy-related needs, deny them leave or benefits, or just give them a hard time.
Join us for this very important teleclass, facilitated by Jack Tuckner, women's rights expert and advocate, and author of Women's Rights in the Workplace: A Guide to Pregnancy Discrimination. Jack will walk us through:
Recognizing and defining pregnancy discrimination
Knowing your maternity leave rights
Reasonable accommodations
What to do in the event of discrimination
…and more!
This teleclass is professionally presented and generously sponsored by Tuckner, Sipser, Weinstock & Sipser, LLP, Women's Rights in the Workplace

Jack Tuckner is the co-founding partner of Tuckner, Sipser, Weinstock & Sipser, LLP, a New York City Women's Rights in the Workplace law firm representing employees facing workplace inequality and discrimination. Tuckner concentrates his specialized practice on sex and gender cases including pregnancy discrimination, sexual harassment, gender pay disparity, and sexual orientation discrimination
*You will receive dial-in information upon completing your registration.
Not sure if you can make the teleclass? Don't worry! Everyone who registers will receive a link to the taped call, so be sure to sign up.