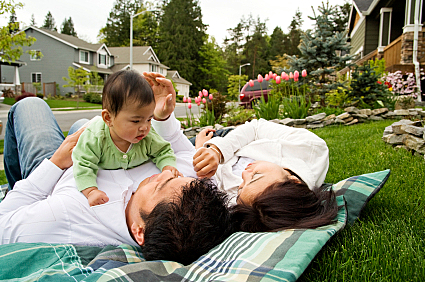 This free teleclass is reserved for Mommybites Facebook fans only. Not a fan? No problem, just LIKE us on Facebook and then scroll down to register so you will receive the call-in information for this class.

All you need to figure out your move out to the good old 'BURBS.
The Suburban Jungle Realty Group, the first of its kind real estate strategic relocation firm dedicated exclusively to helping young families leave "the city" for the suburbs, will be hosting this unique upcoming teleclass discussing:
1. Timing- When is the ideal time to leave urban life!
2. Childcare- how that will change and effect family dynamic, finances and the home you ultimately buy.
3. Rent v. Buy- what is the right way to get started.
4. Strategy on how to get to know the neighborhoods
5. Working mom v. Stay at home towns and considerations
6. Main Street and Downtown living in the suburbs- can it be done?
7. How do you make your home search NOT home centric.
The Suburban Jungle Team will be on hand to answer any and all questions regarding the search to the suburbs.

This event is sponsored by The Suburban Jungle Realty Group. At The Suburban Jungle Realty Group, each family works with their personal strategist as well as a dedicated relocation team to find the right town, and then of course the right home! There are over 500 towns you can move to within commuting distance to NYC, all of which have their own personality. Their award winning town first approach to real estate helps to make certain that you are looking in the right places, and more importantly asking the right questions. All of their services are free. To learn more about how they work and read about them in the NY Times, Wall Street Journal, Westchester Magazine, The Real Deal and more— please log onto www.SuburbanJungleRealty.com or call them at 646.666.8866.
*You will receive dial-in information upon completing your registration.
Not sure if you can make the teleclass? Don't worry! Everyone who registers will receive a link to the taped call within 3-5 business days, so be sure to sign up.