*This FREE teleclass is brought to you by Lil Yogi's NYC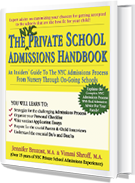 NYC PEAS (Private Education Advisory Service), authors of the well-known The NYC Private School Admissions Handbook, will be offering a free teleclass on the whole nursery school admissions process.
During this informative teleclass, NYC PEAS will:
Advise families on what they could be doing now and over the summer to get ready for applying to schools.
Discuss the differences between traditional, Montessori, Reggio Emilia and Religious schools.
Discuss what to look for in a school when you go visit
Discuss the application process including how to obtain applications depending on where you live and if it is a lottery system.
Provide useful tips for essay writing and interviews
We will end with a question and answer session.
Jennifer attended New York University and received her Master's degree in Education from Columbia University's Teacher's College. She has her degree in the advanced teaching of Reading and Writing from Columbia University's Reading and Writing Project. She taught second grade and has worked in the admissions office of a prominent New York City private school. She lives in Manhattan with her wonderful family.
For more information you can log on to the website: PEAS
*Our sponsor for this free teleclass, Lil Yogi's NYC, was created to introduce the fundamentals of yoga to children while they are young, open-minded, and carefree. Designed to create a positive, playful and non-competitive space where children could explore their mind, body and spirit, Lil Yogi's NYC helps children become healthier, stronger and more relaxed. 
By engaging the children's imagination as much as focusing on
their physical poses, we have created a nurturing atmosphere where children have the space to learn, experiment and flourish. We host many classes for kids outside and inside! Check out our schedule for more information on our class locations by going to our website www.lilyogisnyc.com and clicking the "schedule" tab. Also, feel free to email us at [email protected] for a FREE first trial class and to receive more information about our program.