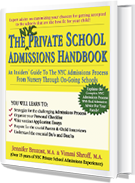 NYC PEAS (Private Education Advisory Service), authors of the well-known The NYC Private School Admissions Handbook,will be offering a free teleclass on the whole nursery school admissions process. During this informative teleclass, NYC PEAS will:
Advise families on what they could be doing now and over the summer to get ready for applying to schools.
Discuss the differences between traditional, Montessori, Reggio Emilia and Religious schools.
Discuss what to look for in a school when you go visit
Discuss the application process including how to obtain applications depending on where you live and if it is a lottery system.
Provide useful tips for essay writing and interviews
We will end with a question and answer session.
This teleclass is generously sponsored by NY Kids Club. The NY Kids Club Early Enrichment Center offers preschool programs for children 2, 3 and 4 years old. All programs incorporate classroom time for art, music, math, science and literacy activities, and gym time, where children participate in gymnastics and sports classes in our state-of-the-art gymnasium, which features soft play mats, tunnels, a balance beam, uneven and parallel bars, trampoline, and more. Instilling a sense of love for school and learning is at the heart of the NY Kids Club Enrichment Center. Children develop a sense of autonomy, a sense of independence, self-esteem, curiosity and ability to ask questions, and the confidence to generate ideas. Admission for NY Kids Club preschool programs is on a rolling basis, and registration is now being accepted for the three new locations – Tribeca, Park Slope, and Williamsburg – scheduled for opening this summer.  Limited spaces are still available at the Upper West Side, Upper East Side, Gramercy Park, Battery Park, and Brooklyn Heights locations. Visit us online at nykidsclub.com.
Jennifer attended New York University and received her Master's degree in Education from Columbia University's Teacher's College. She taught second grade and has worked in the admissions office of a prominent New York City private school. She lives in Manhattan with her wonderful family.For more information you can log on to the website: PEAS
Vimmi completed her Undergraduate degree in Business and Economics in India. She has a Masters in Education from New York University. She taught at various private schools in New York City. She has worked as an admissions officer as well as a Director of Admissions at various New York City private schools.