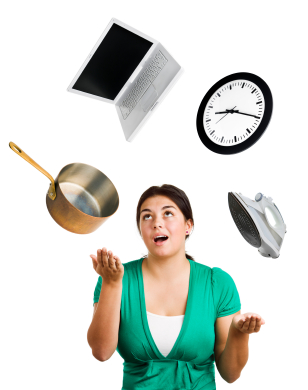 Feeling disorganized? Mothers can feel like life is running on a never-ending loop. Just when one problem or responsibility is overcome, another trips us up.
But help is on the way: Barbara Reich has all the strategies for staying ahead of the curve—and she's wrapped them up into four easy steps that can be applied to any organizing project:
1. purge
2. design
3. organize
4. maintain
The keys to Barbara's success are simplicity and consistency. Room by room, she will walk you through the most problematic areas in the home— from the tornado-struck play area to the packed basement or storage unit. She'll provide pointers on organizing in manageable bites— many of which can be dealt with in two hours or less. As the mother of thirteen-year-old twins, Barbara offers insight into the lives of crazed moms as only a mother could.
Barbara Reich is a professional organizer based in New York, NY.  Her tough-love approach turns organization and clutter from chore to lifestyle. She takes inspiration from her love of organizing, her husband and their thirteen year old twins.  Her book, "Secrets of an Organized Mom" is on shelves now.  To find more tips from Barbara, please visit www.facebook.com/ResourcefulConsultants or www.secretsofanorganizedmom.com.
*You will receive dial-in information upon completing your registration.