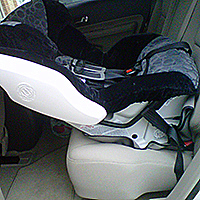 Did you know that nearly 3 out of every 4 car seats are NOT used correctly? Join BRITAX and Mommybites on November 8, 2012 and we'll discuss some common misuses and how to correct them.
In this presentation, Sarah Tilton, Child Passenger Safety (CPS) Advocate for BRITAX, will cover topics including:
How to tell if you are using the right car seat for your child
Properly securing your child in a car seat
Checking your car seat installation

Please note that the content of this presentation has been prepared for the average parent or caregiver.
This webinar is sponsored by BRITAX.
The presenter, Sarah Tilton, is the spokesperson for BRITAX within the advocacy community participating in child passenger safety activities at a local, state and national level. 
All registrants will receive the login information upon registering via Eventbrite.