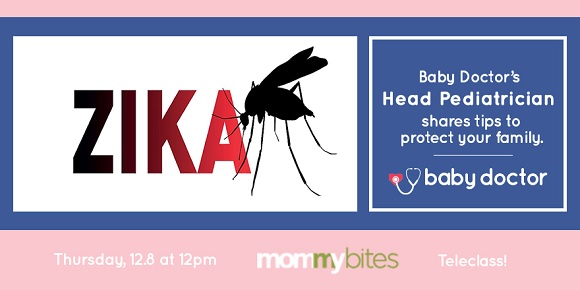 Everyone's preparing to leave for the holidays, including caregivers, who may be headed to regions where Zika has been reported.  Join our highly informative and important teleclass for tips from Dr. Dania Rumbak, Head Pediatrician for Baby Doctor, a new after-hours pediatric care service offering quality in-home visits for children under 18.
Dr. Rumbak will help you learn how to lower your risk of contracting the virus – by avoiding high-risk destinations and taking appropriate precautions while traveling – and the symptoms to watch for once you've returned.
Generously sponsored by

Dr. Dania Rumbak is Head Pediatrician, Chief Medical Officer, and Co-Founder of in-home, after-hours pediatric service Baby Doctor. She is a fully licensed and board-certified pediatrician, fellowship-trained in pediatric critical care medicine. A leader in her field, Dr. Dania is also an Assistant Professor of Pediatrics at Columbia University Children's Hospital, and has published multiple works in pediatric medicine. She lives on the Upper West Side with her husband and co-founder Shachar Golan.
*You will receive dial-in information upon completing your registration.
All class times are in EST/EDT.
Not sure if you can make the teleclass? Don't worry! Everyone who registers will receive a link to the taped call within 3-5 business days, so be sure to sign up.