It's only natural to feel self-conscious after having a baby because your body inevitably changes, and you have to learn how to acclimate to it. This is a challenge for all new moms, so don't feel alone.
Learn to accept your new body first and foremost because it represents all that you've been through to become a new mom. It's a part of your journey and the new life you have ahead of you, so don't be too hard on yourself. Your priorities for the next 18 years of your life will now change, and time at the gym isn't going to be at the top of your list on most days, if any, while you're raising a newborn. You'll also find that your hormones may go haywire, and when they do, this can affect many different things.
However, just because you don't have time to tackle that extra baby weight at full steam right away doesn't mean you have to live in high-waisted yoga pants and oversized t-shirts. Learn how to feel comfortable in your new body with the following 10 flattering fashion tips for new moms.
1. Don't Put Away Your Maternity Clothes
Just because you're no longer pregnant doesn't mean you have to pack away your maternity clothes. Give yourself a break, and wear your maternity clothes during the transition back to a more comfortable body. Don't be afraid to wear them for as long as you need to until you're able to get yourself back into your old clothes. There's no time limit or rush, so do it at your own pace. Maternity clothes are also very stylish these days, which helps.
2. Welcome Patterns
Not only will you have to find looser fitting clothes for your new body, but you'll also have to find clothes that disguise leaks that are out of your control. You will more than likely have no choice but to feed your baby out in public sometimes, and when you do, a breast milk-soaked shirt is not ideal. The best thing you can do is wear patterned shirts that hide those leaks. A mix of light and dark colors is always the way to go.
3. Go for Loose and Flowy
When it comes to tops, some like to stay away from form-fitting or peplum tops and stick with those that are flowy and loose- fitting. Wear tops that are lightweight and easy to layer so that you're always comfortable in your new skin. Layering can also make it more fun to mix and match.
4. Stick to High-Waisted Jeans
Hip-huggers are a thing of your past, and after having a baby, you'll likely find that those low-cut jeans don't cut it anymore. It's time to accept and revel in high-waisted jeans because they will change your life by giving you confidence and security in all the right places.
5. Accessorize
While it may add an extra step or two to your morning routine, it's worth it. With the right accessories, you can bring any look together, even if it's more loose-fitting clothing. If you wear necklaces that end at your cleavage or lower, you'll elongate your neck, which will make you look slimmer. Scarves are another great accessory that allows you to add a pop of color or a more slimming look with plain black.
6. Embrace Boho Style
It's time to become a boho mom. Even if Boho isn't your style, post-baby, it may become your new best friend. Wear trendy kimonos over leggings that hold in problem areas. Get away with messy buns and quick and easy braids, and buy yourself some palazzo pants in different shades and prints. Not only are they comfortable, but they're super stylish too.
7. Take Advantage of Shapewear
Now is the time to discover shapewear, if you haven't already. It will make a huge difference in the way you feel and carry yourself. Slimming tanks have hidden compression bands around the belly area, and shapewear panties will help hold in your thighs, backside and waist.
8. Say Goodbye to Frizz
Your hormones may go haywire after you give birth, so prepare for potentially frizzy hair that will drive you nuts. It's frustrating when you can't tame your hair and style it like you used to, but there's a solution out there that will help. Deep condition your hair at least once a week and use leave-in conditioner daily.
9. Take out Your Heels
Sounds crazy, right? What new mom is going to want to run around with a screaming baby in high heels? Think less Devil Wears Prada and more those two-inch heels your mom wears to church. If you add an inch or two, you will instantly feel longer and leggier. Block heels and wedges are both sturdy options that also have great lift. Don't rush yourself, though, because your feet may be too swollen and sore for some time. Get some house slippers and slip on sandals until you're ready for the next step.
10. Splurge on Something
After several months in maternity clothes, you deserve something that will make you feel good about yourself. Go out and buy a few new pieces that make you feel confident in your new body. Go for a sexy dress, an elegant piece of jewelry or a flowy cardigan that will make it easy for you to nurse in style.
Keeping a tiny human alive isn't an easy job, so cut yourself some slack if you can't fit back into your size 4 jeans right away or your favorite LBD. With the above ten tips, you're on your way to becoming more comfortable in your post-baby body. Embrace your maternity clothes, get yourself a couple of pairs of high-waisted jeans, remember — loose and flowy, and don't forget to splurge a little. Being a new mom is such an exciting time and one you can enjoy in the comfort of your own skin.
---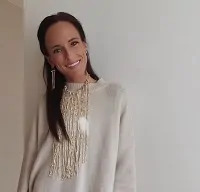 Kacey Bradley is the lifestyle and travel blogger for The Drifter Collective, an eclectic lifestyle blog that expresses various forms of style through the influence of culture and the world around us. Kacey graduated with a degree in Communications while working for a lifestyle magazine. She has been able to fully embrace herself with the knowledge of nature, the power of exploring other locations and cultures, all while portraying her love for the world around her through her visually pleasing, culturally embracing and inspiring posts. Along with writing for her blog, she frequently writes for sites like US Travel News, Thought Catalog, Style Me Pretty, Tripping.com and more! Follow Kacey on Twitter and subscribe to her blog to keep up with her travels and inspiring posts!