The phone rang from my oldest son's school. The school nurse was on the other end of the line. She started by telling me not to panic (which obviously means "start panicking now"). My son was on his way to the hospital. He caused an explosion in the science lab.
Every parent dreads a phone call like this. Yet, I took a big deep breath and calmly asked for the details. I wasn't always able to react to things this way. Before I started meditating, adrenalin would have immediately started to flood my body and I would have gone directly into a reactive panic mode. Yet here I was able to manage a very scary situation with calm and clarity.
Meditation has also helped me be more compassionate toward my son (as well as myself).
This wasn't the first call like this. My son has ADHD. He's a high-energy boy without a malicious bone in his body. He doesn't act deliberately. He acts impulsively, and often gets himself into trouble. This time, it was a science experiment gone wrong. The explosion left him with third degree burns all over his hands and arm.
Before meditation became a regular part of my life, my reaction to him would have gone a bit differently. Instead of understanding his point of view – he was curious and wanted to see what might happen – I would have probably exploded at him, shaming and blaming him for not listening to the teacher's warnings, and hurting his self-esteem in the process.
It is really stressful for kids like him who know they have to control their behavior, but can't always do it no matter how hard they try. They know that they are not meeting the expectations of their parents, or their teachers. They want to do the right thing, but sometimes they just can't help themselves.
Parents who have ADHD kids often feel frustrated and at the end of their rope. They feel guilty for having those feelings, and even more guilty when they react angrily.
In addition to having to educate a sometimes defiant or difficult child, parents often end up having to serve as the advocate for their child at school so that he or she receives the compassion and extra help they require. This can be very difficult emotionally at times.
Meditation helps both the parents and the child. My own reactions have become more balanced. Rather than being caught up in the drama and my own fears, meditation has helped me take a step back and get a bit of perspective. I can be more empathic and compassionate. Kids who meditate have the same experience. They can self-regulate a bit more, and manage their stress. They can learn to focus their attention and deal better with their emotions.
My son has been one of my greatest teachers. His natural curiosity and sense of adventure are gifts that make him the wonderful person that he is.
Instead of always trying to control and modify his behavior and have him do things "my" way, my meditation practice has made it possible for me to find a bit more acceptance for "what is" and flow with life, even when it gets a bit turbulent.
Like what you read? Sign up for our free newsletter so you can be informed of the latest FREE webinars & teleclasses, parenting articles, & weekly raffles.
Lynne Goldberg is a certified meditation coach and co-founder of OMG. I Can Meditate!, a mobile and web mindfulness app that can teach meditation to anybody in just 10 minutes a day. Lynne's simple and clear teaching style has brought the joy of meditation to stressed-out business executives, soccer moms, eighty-year-olds, kindergarten kids, and everyone in between. She is the author of the book Get Balanced. Get Blissed.
OMG. I Can Meditate social channels:
Website, Facebook, Twitter, Instagram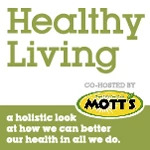 * Healthy Living is section of our website co-hosted by Mott's. Mott's has compensated Mommybites to be a partner in this awesome Healthy Living section on our website. This partnership does not influence the content, topics or posts made on this blog. We always give our honest opinions, findings, beliefs, or experiences on all topics, products, and services.
The views and opinions expressed on this blog are purely the blog contributor's. Any product claim, statistic, quote or other representation about a product or service should be verified with the manufacturer or provider. Writers may have conflicts of interest, and their opinions are their own.