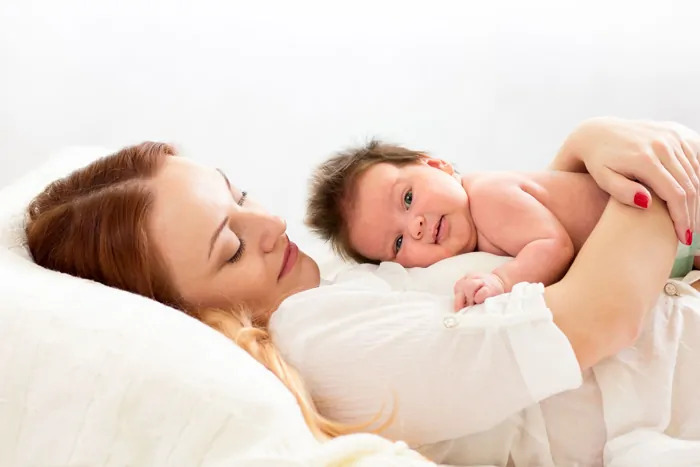 Imagine having a dedicated hour with a doctor to get ALL your burning expectant and new parent questions answered!
Participants were in luck when one of the country's top docs from Weill Cornell Medical Associates was on hand for our recent class to answer many important new parent questions and concerns such as: infant health & safety, feeding, skin care, pediatrician visits, sleep, nursing, immunizations, schedules, fever and more.
In case you missed it, listen to What Every Expectant & New Parent Should Know
For your ongoing reference and support, view what kinds of development occur in your baby's first month.
Babies are called newborns during their first month of life. Although your newborn sleeps a lot, powerful changes are occurring. View the five areas of development in newborn babies below.
5 Areas of Development in Newborn Babies
1. Physical development
Watching your baby grow in size is part of the fun of being a new parent. Don't be alarmed if your newborn loses some weight shortly after birth. This weight usually is regained within 10 to 12 days. Most newborns gain about4 oz (113 g) to 8 oz (227 g) a week and grow about 1 in. (2.5 cm) to 1.5 in. (3.5 cm) in the first month.
2. Cognitive development
Cognition is the ability to think, learn, and remember. Your newborn's brain is developing rapidly. You promote healthy brain growth every time you interact in a positive way with your baby.
3. Emotional and social development
Newborns quickly learn to communicate. They seek interaction with you and express how they feel with sounds and facial expressions. At first, instinctual behaviors, such as crying when uncomfortable, are your baby's ways to signal his or her needs. Soon your newborn starts to subtly communicate and interact with you. For example, your baby's eyes will track your movements. And his or her face will brighten when you cuddle and talk soothingly. Even at a few days old, your baby may try to mimic you sticking out your tongue.
4. Language development
Your newborn is listening to and absorbing the basic and distinct sounds of language. This process forms the foundation for speech.
5. Sensory and motor skills development
Newborns have all five senses. Your newborn quickly learns to recognize your face, the sound of your voice, and how you smell. Your newborn's sense of touch is especially developed, particularly around the mouth. Your baby also has a strong sense of smell. After a few days, your newborn hears fairly well and responds most noticeably to high-pitched and loud sounds. Your baby recognizes and prefers sweet tastes to those that are sour, bitter, or salty. Vision is developing quickly but is believed to be the weakest of the senses.
Motor skills develop as your baby's muscles and nerves work together. Movements are mostly controlled by reflexes, such as the rooting reflex, which is when a newborn's head turns and his or her mouth "reaches" toward a touch. Hands are tightly fisted when the baby is alert.
Help your newborn grow and develop?
The most important way to help your baby grow and develop is to communicate with him or her. Use a high-pitched voice, gentle touch, hugs, and kisses. An environment that is rich in stimulation, comfort, and loving attention enhances many areas of a baby's development. Research shows that babies who are talked to throughout their first few years usually learn language skills more easily than those who are not. Newborns are more interested in their caregivers than they are in toys or other objects.
 Are you caring for your newborn correctly?
You may feel overwhelmed during your baby's first month and wonder "Am I doing this right?" No previous life experiences prepare first-time parents for this new role. It is completely normal to be confused and frustrated by your newborn.
You will become familiar with your newborn's needs by paying attention to his or her behavior. For example, a fussy cry and turning away usually means "Change what we are doing." And an alert, bright-eyed look means "I am interested in what's going on." Trusting your instincts—to cuddle and rock a crying baby or to talk to your baby in a high-pitched "baby talk" voice—is usually the "right" thing to do. You will begin to develop a rhythm with your baby, where you will be able to read each other's needs and moods.
Checkups should your newborn have?
Your baby's doctor will likely recommend a specific schedule of routine newborn visits. These visits are important to check for problems and to make sure that your child is growing and developing as expected.
Do not be afraid to call your baby's doctor anytime you have concerns about your newborn's health or general care. It is normal and expected for parents of newborns to have questions and to make frequent visits and calls to the doctor.
Generously sponsored by
Dr. Asaf Cohen received his undergraduate degree from the University of Pennsylvania. He obtained his MD degree from Baylor College of Medicine in Houston, Texas, and completed his residency in Family Medicine at the Mount Sinai Beth Israel Residency in Urban Family Medicine in 2006. Dr. Cohen then practiced as a primary care physician and eventually also as a site medical director at Open Door, a federally qualified health center in Westchester County. He is board-certified in Family Medicine.