Protecting your baby gets tougher when he or she gets the ability to crawl and/or walk. Suddenly the most normal parts of your home present new dangers – especially in the bathroom. That's because, to a crawling baby or growing toddler, the bathroom is a curious space worth exploring.
Your child wants to open doors, reach for bottles and learn more about all the objects in the area. The only problem? In bathrooms, this kind of discovery can be dangerous. Bathrooms are notoriously filled with chemicals, sprays, medicines and other substances that, in tiny hands and mouths, could cause major harm.
How can you childproof your bathroom so your little one stays safe? What substances need to stay out of reach? What areas should be locked?
To help answer these questions, here's a look at some top tips for preparing the bathroom for your baby:
Supervise.
Don't let your kids be in the bathroom without you. Don't play in there. Don't leave your child alone in there. Make the bathroom a place where your baby can only go with you.
Add a doorknob cover.
Keep your kids out of the bathrooms by adding childproof doorknob covers to the bathroom doors. These covers make it possible for adults to easily get in and out of the bathroom without allowing little ones to have the same access. To prevent unintentionally getting locked in the bathrooms yourself, install covers on inside doorknobs, too.
Read Next | A Few Must-Have Child Safety Gadgets to Childproof Your Home
Lock the toilet.
Keep the toilet lid closed, and put a lock on it to prevent kids from being able to open the lid. This way, you won't have to worry about your baby accidentally tipping over into the bowl and meeting a drowning hazard.
Lock up meds.
If you keep any medication — from aspirin to prescription drugs, in the bathroom — make sure it's stored and locked away where kids can't get to it.
Store toiletries high out of reach.
From aerosol hairsprays to makeup and body products, store all your toiletries high in the bathroom where kids can't get to them. If you don't have high storage available, you may keep these items in cabinets — but keep them locked.
Cover outlets.
Just like you cover the outlets in main living areas, do the same in reachable areas of the bathroom. This prevents little fingers from being able to poke inside sockets.
Unplug.
Don't leave anything plugged in when you leave the bathroom. This includes blow-dryers, curling irons, flat irons and other appliances. You don't want one of these objects to be able to fall into a tub and risk electrocution.
Read Next | 8 Road Trip Tips Every Family Needs This Holiday Season
Invest in skidproof mats.
Line the tub and bathroom floor with skidproof surfaces to prevent slips or falls.
Lower the water temperature.
Set the water heater in your home to a reasonable 120 degrees Fahrenheit maximum temperature. This will be hot enough for comfortable showers and baths, while also low enough to prevent unintentional scalding. You may also want to buy an anti-scalding device that automatically stops water flow when it gets too hot.
Practice safe bath habits.
When giving your baby a bath in the tub, never leave him or her unattended — not even for a moment. If you need to step out of the room, scoop up your child in a towel and go together. Likewise, teach your baby to always, always stay seated in the tub.
When it comes to your child, you can never be too careful. That's why, when it comes to bathroom safety, the best practice is prevention. Use the tips above to childproof and safeguard your space, and keep your child away from danger at home.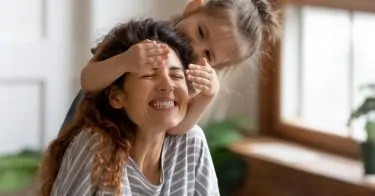 Read Next | This Is Where to Hire an Amazing NYC Nanny
---
Erica Garland is Content Marketing Manager at Modern Bathroom and has 15 years of experience in the bathroom renovation industry. Modern Bathroom sells a variety of products you would need for any bathroom renovation project. With such a large selection of modern bathroom faucets, sinks, toilets and showers, Modern Bathroom is sure to have the perfect piece to give your bathroom an updated look.  
Like what you read? JOIN the Mommybites community to get the latest on FREE online classes, parenting advice, events, childcare listings, casting calls & raffles, and our Parents With Nannies Facebook group. SIGN UP NOW!
The views and opinions expressed on this blog are purely the blog contributor's. Any product claim, statistic, quote or other representation about a product or service should be verified with the manufacturer or provider. Writers may have conflicts of interest, and their opinions are their own.