A Mommybites reader asked:
Should my personal care change (products I use like skincare products, sunscreen, beauty treatments, etc.) while I'm nursing?
While you were pregnant there was a fairly extensive list of personal care products you were recommended not to use, including most medications and certain foods. This is primarily because during pregnancy whatever you were ingesting or using on your skin was usually transfused to your baby through your blood.
As far as breastfeeding goes, the list is not as extensive as in pregnancy. However, in general, depending upon how "organic or green" you want to be will influence what personal care products you use while breastfeeding. With regards to personal care products, there are no government safety regulations or testing of components and chemicals in these products, as there are for food and medications. It is not possible to list and discuss all personal products, but I will try to discuss ones commonly used.
Read Next | This Is How to Do Housework with a Newborn

Can Women Use Sunscreen While Breastfeeding?
Sunscreens are not contraindicated with breastfeeding, although this product and other personal care products can have harsh chemicals if you use a chemical sunscreen. With sunscreen, as with all personal care products, it's healthier and safer in general to use organic products, such as zinc oxide, rather than chemical ones. Very little sunscreen is absorbed by your body, but harsh and toxic chemicals are obviously not good for breastfeeding, for either mother or baby. When applying sunscreen to your breasts, be careful that your breastfeeding infant doesn't ingest some of the sunscreen. The same goes for self-tanning products. You do not want your baby to ingest these harmful products.
Using Acne Medications While Pregnant or Breastfeeding
Many mothers following pregnancy have problems with acne, and therefore wish to use acne medications. Products with Benzoyl Peroxide or Salicylic Acid are for the most part compatible with breastfeeding. These products, while absorbed through the skin, are mostly metabolized once they enter the body. Proactive, for example which has benzoyl peroxide, is compatible with breastfeeding, and is better than taking medications by mouth for acne. Before taking any prescribed or over the counter medications you should first consult your obstetrician or pediatrician to see if the medication is safe for breastfeeding. Retin A for acne should be used with caution or not at all. Acutane should never be used with breastfeeding.
Read Next | Business Basics: Creating a Routine is Key to Work-at-Home Survival!

Hair Products and Hair Remove Products
As far as hair products, including shampoos, dyes, etc., there is no evidence based research in the medical literature showing that these products are not safe and compatible with breastfeeding.
Hair removal products should be used cautiously, especially if used to remove hair around your nipples as your infant could ingest the product and become ill.
Insect Repellent and Breastfeeding
Insect repellant is compatible with breastfeeding, for the most part, but, again, do not use repellant on your breast and nipples, as your baby could ingest the insect repellant. Many repellants contain harsh chemicals.
Read Next | Is Your Green Juice Negatively Affecting Your Thyroid?

The Use of Fragrances, Creams, Nipple Creams and Lotions While Breastfeeding
Most fragrances and perfumes contain synthetic chemicals. "Fragrance" is a general term for thousands of chemicals, depending upon the fragrance. Baby oil, with its fragrance for example, is 100 percent mineral oil, which is a petroleum derivative, which can be toxic to babies and should not be used by mother or baby with breastfeeding.
Nipple creams should be used with caution with breastfeeding. Vitamin E, for example, should not be used on nipples while you are breastfeeding since your baby will ingest the Vitamin E, and she may take in toxic amounts while breastfeeding. Most herbs and essential oils should not be in nipple creams, as they are not safe for pregnant and breastfeeding mothers. Nipple creams should also be free of lanolin, which is not safe for babies because it contains pesticides and potential allergens. Safe nipple creams be organic, since your nipple is going into your baby's mouth. Nipple creams with olive oil, calendula, shea butter, or organic cocoa butter are safe for babies.
It's important to read the ingredients on all personal care products, just as you would for food products. It's important to avoid products with formaldehyde, petroleum products, lead and aluminum while breastfeeding. To summarize, the best things to do is to use all organic products and ingredients with your personal care products.
Read Next | Baby Acne: Causes and Treatment
---
Dr. Gina Lamb – Amato MD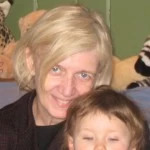 Gina is a general pediatrician and developmental pediatrician who works at Village Pediatrics and Agho Medical practices both in Manhattan, NY. She has a masters in child therapy and works with a child psychologist Rosa Vasquez PhD performing office and home consultation for newborns and parents, office and home developmental assessments, school consultations and parent child playgroups where play and art along with baby massage and other techniques are used to help parents bond and support their child's development. Formerly, Gina was the Director of Pediatric Special Medical Needs before she went into private practice where she cared for medically fragile infants and children. She is also a Early Intervention Pediatrician for Early Intervention which assesses and treats infants from age zero to 3 years. She has extensive experience in Early Head Start programs which work with infants from prenatal to 3 years of age. She is the mother of a beautiful daughter who is 3 years old and the joy of my life. Her husband is an artist, producer and owns Synchronicity Space, a non-profit arts organization that supports emerging artist in fine art and theatre. Finally, she is also an artist who paints mainly babies and children.