Leprechaun traps are a fun way to get into the St. Patrick's Day spirit with your kids. The idea is to lure a leprechaun into a trap that you and your kids create. You can make the trap with anything that attracts leprechauns, such as: anything green, anything shiny, gold coins, Lucky Charms and other colorful treats, rainbows, and anything else that reminds you of St. Patrick's Day!
With these tips and a little luck of the Irish, you're sure to create a successful trap!
Be Creative
Leprechaun traps can look different. The fun part is using your imagination and being creative with what you make.
Be Resourceful
You can make your trap with materials you find around your house. You don't need to use any specific materials, it's all up to you and your kids!
Be Sneaky
The goal is to trap a leprechaun, so plan how the materials you use will do that. Consider adding maple syrup to your trap. The sweetness will attract the leprechaun and its feet will get stuck in the sticky syrup. See the list above and here for leprechaun bait ideas. You can also cook some fun St. Patrick's Day treats to bait your leprechaun. Some simple favorites include Rainbow Rice Krispie Treats, Shamrock Shakes, and Leprechaun Popcorn.
The trap pictured works like this: the green decorations and shiny gold coins attract the leprechaun to the trap. He climbs through the tunnel wrapped in green netted string to grab a pile of coins. When the leprechaun gets to the top, he falls through the hole at the end of the tunnel!
Be on the Lookout
Always keep an open eye for signs that leprechauns have paid a visit. Parents, this is where you come in! A messed-up trap and gold coins left on the floor usually mean you had a visit from a leprechaun late in the night.  In addition to messing with the trap, you can buy leprechaun figures and garden gnomes if you'd like to go all out and deliver a trapped leprechaun.
Your kids are sure to enjoy this fun St. Patrick's Day leprechaun trap activity!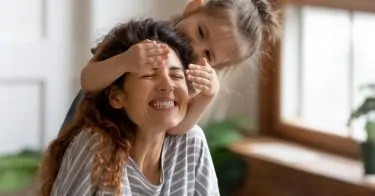 Read Next | This Is Where to Hire an Amazing NYC Nanny
---
Elizabeth Siris Winchester is the Director of Content for Mommybites. She has spent much of her publishing career writing and editing for Time For Kids magazine and Scholastic. Liz is also the Marketing Manager for Sea Cliff Music, which provides music education to string students of all ages. A longtime Long Islander, Liz enjoys exploring surrounding communities and NYC with her three children. She also loves running, yoga, skiing, music, dogs, and spending time with family and friends. 
Like what you read? JOIN the Mommybites community to get the latest on FREE online classes, parenting advice, events, childcare listings, casting calls & raffles, and our Parents With Nannies Facebook group. SIGN UP NOW!