Sometimes we adults forget just how big and intimidating the world is for children. Starting a new project or going to a place we've never been before isn't scary to us. However, the thought can leave some children petrified.
If your child struggles with self-esteem or insecurities, this can leave them up at night and cause terrible anxiety. Knowing how to build confidence in kids is also tough for most parents. Thankfully, there are lots of ways we can build confidence and self-esteem in our little ones. With a little work, they'll be excited about going back to school!
Here are some tips that will help you communicate with your child, boost confidence and get them ready for school. Try to start incorporating these practices and tips now. By the time that first day rolls around, they'll be excited about the new school year.
Make a Plan For Subjects With Which Your Child Struggles
Did you know that children's self-concept of their ability when 8-11 sets the tone for how they perform later?
Several studies conducted by professors of psychology and sociology at the University of Michigan, the University of Minnesota and Arizona State University conclude that children really start thinking about their own abilities as early as age 8, but very strongly from 10-12. They begin to compare their abilities to other students in areas like reading or math. This comparison can either build their self-confidence or tank it.
The theory around the self-concept of ability in school is particularly important at this age. That means it's even more important to be present and make a plan to help with topics they struggle in.
This plan may incorporate tutoring, new ways to get your child's interest, or finding a way to connect the dots for your kiddo. Any combination of these efforts is great, but keep in mind that your support and belief in your child will build the self-confidence they need to believe they can master the subjects in the first place!
Get Specific About Praise
Some compliments are just expected from parents. After all, you've been praising your child for being smart, beautiful, wonderful and more since birth! General compliments like this are expected, but just not as impactful – even though you mean them. To really reach your child, you need to spell it out.
When you praise your child, praise a specific action, a strong effort or wonderful performance. What did they do well? Did they struggle with and overcome any part of what you're praising? Did you notice they really put in a lot of effort to accomplish a project or reach a goal?
Compliment it all. Beyond making them feel good, this also communicates that you see them and that their efforts are important.
Actively Work on Socializing Your Child
The social aspect of school can be really intimidating for children. This is especially true with bullying and friendship circles being a big part of socialization. To help make sure your child doesn't get intimidated by the idea of a sea of new faces, make socialization a big part of the summer. Enroll your child in clubs, organizations, and summer sports to keep their social skills strong.
You can also prep your child for going back to school by throwing a back-to-school party! Invite the other students in your child's grade to the party so your child can get familiar with his or her classmates again. It'll make walking into a new classroom so much easier on your child if they see a few friendly faces.
Get Your Child Excited With New Back to School Items
You can create a positive association for going back to school by letting your child pick out something special for the occasion. This might be picking out a beautiful binder, a new backpack or a special outfit for the first day. Your child will gain confidence by being able to make decisions about what they want, and have something exciting to look forward to once the big day comes.
You don't have to go overboard in letting your child make decisions about what they want to get, as too much control can quickly overwhelm children. Instead, offer them a choice, such as choosing whether they want to get a new backpack, a cool set of school supplies or a brand-new outfit. This can be the back-to-school item that you splurge a little on.
How to Build Confidence in Kids Using Yourself As An Example
As adults, we're often guilty of a "do as I say, not as I do" mentality. We sometimes forget that little eyes are watching everything we do and little ears are listening to everything we say for cues on how to operate in the world!
If your child hears you constantly criticizing yourself or speaking negatively, chances are they'll begin to emulate your behavior. Instead of lamenting how your hair is too frizzy or your thighs are too wide, or how you're just not good with numbers, make an effort to cut the negative talk.
Instead, make sure your child hears you vocalize what makes you feel good. Whether it's the color of your new shirt or finishing the latest novel, your child will learn how to feel good about themselves and the world from the people who taught them from the beginning – their parents.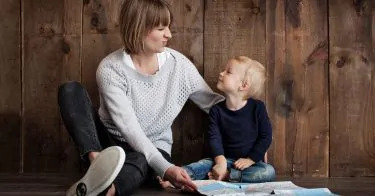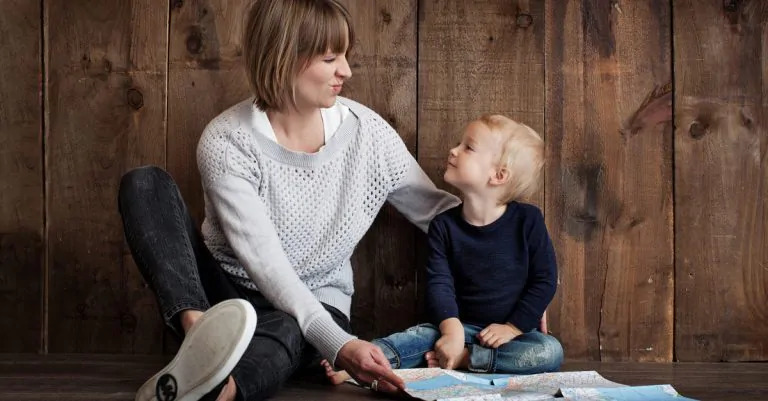 Read Next | Find a Great Nanny in and around New York City
---
Kristen Klingensmith is a self-described mimosa connoisseur and casual Bravo TV addict. When she's not writing for various lifestyle, travel and parenting publications, she's raising her daughter Sophie Grace and eating her way through Oklahoma.
Like what you read? JOIN the Mommybites community to get the latest on FREE online classes, parenting advice, events, childcare listings, casting calls & raffles, and our Parents With Nannies Facebook group. SIGN UP NOW!