One of the most challenging issues that comes up while expecting is navigating our baby weight gain. In the past we may have struggled with our weight, or have religiously been able to maintain our ideal weight – but now, as we slowly see the numbers creep up with every prenatal visit, it can bring up feelings of fear, anxiety, and frustration. We've spent our entire lives trying not to gain weight – and now it's quite a mind shift that this is actually a good thing!
Weight Gain Is Good!
Now that we have internalized the mantra, "Weight gain is good!" for this exciting time in our lives, let's chat about how much. Most doctors will recommend a weight gain of 25 – 35 pounds over the course of the forty weeks of pregnancy: a few pounds during the first trimester and then one to two pounds a week for the rest of your pregnancy. Some moms gain more (as with twin moms) and some moms may gain a bit less – what's important is that the weight comes on slowly.
Losing the weight
The opposite is also true – to lose weight, the weight should come off slowly. The mantra of "nine on, nine off" is often heard and is a healthy way of thinking – and it may definitely happen quicker, and be only a couple of months with good nutrition and exercise habits. You should avoid crash diets.
Here are some tips for getting back to your pre-baby shape:
Eat Breakfast Every Day
It really is the most important meal of the day and regulates your blood sugar after the "fast" while sleeping.
Read Next | Healing After Vaginal Birth
Drink Plenty of Water
It's even more important now to get in your eight glasses of water a day. Have a glass immediately after waking, and every time you feed the baby – an easy way to remember to hydrate!
Go For Walks
One of the easiest ways to work in exercise is to walk every day. No need to hop onto the treadmill or frequent those spin classes (unless it fuels you). Most of the moms I know lost weight by making daily walks a priority – for them and their little ones to get out each day. It's a great way to relieve stress and easily and effortlessly work exercise into our lives.
As with anything in life, it's the little things – daily habits and small baby steps to take us to where we want to go. Good luck on your journey!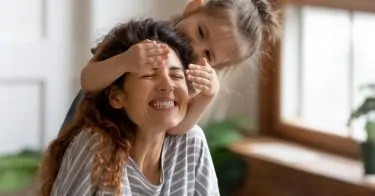 Read Next | This Is Where to Hire an Amazing NYC Nanny
---
Renee Sullivan
Renee Sullivan, parent coach works with moms each week to create their own personal parenting plan that is right for them, while making sure that each mom gets the support, resources, and community they need for their parenting journey. Drawing from her experience as a birth coach and educator, she guides moms – new, seasoned and expectant through the never-ending array of decisions that come with having a child. Weekly sessions that are "nurturing, informative, and fun" and her "calm-laid back personality" has made her a "dynamic resource" to the parenting community since 2006. Renee's positive, warm and enthusiastic personality relaxes and guides new and expectant moms to enjoy the journey and her personal attention to detail allows all parents that work with her to quickly get the resources they need to feel at ease to make informed and educated decisions. Before joining Mommybites, she narrowly escaped the trenches of Corporate America where she was a Senior Project Manager for The New York Times, Morgan Stanley, and Pfizer.