Having mom friends is so important, and the best way to create your tribe is to host and attend play dates with your friends and their kiddos.
We recently held a fun and highly informative class with REAL mom, Jillian Darlington, CEO of MomCo App Inc. – and generously sponsored by Happy Family – to discuss her creation of such a platform based on this extremely common need that is so crucial to mom life.
During the session, Jillian discussed such topics as how to connect with other moms, creating a play environment that both moms and kids will love, best places to host play dates, how to plan and organize play dates, and more.
In case you missed it, you can listen to the class re-play here.
Here is a wonderful resource (and burning topic!) from the MomCo blog:
How to Host the Perfect Play Date Without Losing Your Mind
You don't have to be a Pinterest Princess to host the "perfect" play date. All a play date really requires is moms and kids gathering together for some fun! When it comes to hosting a play date, it's important to stick to a few guidelines. First, keep it simple, and secondly, yep… have fun. That's all!
Don't make yourself crazy trying to figure out what to do, what to serve, or if you need to keep everyone constantly entertained. Follow these simple tips and everyone will be eagerly anticipating your next play date!
To Theme or Not to Theme
If themes are your thing, we have several ideas for you:
Space
Under the Sea
Water
Cowboys & Cowgirls
Dinosaur Days
Bubbles
Animals
Dance Party
Click to see more play date theme ideas on our Play Dates page!
You can do as much or as little on the themes as you'd like. It doesn't have to be over the top to be fun. And if you aren't a big theme party person, that's perfect, too! Remember… the point of a play date is to get moms and kids mingling outside of the house.
Snack Time
Provide some simple and tasty snacks, like bowls of halved grapes, apple pieces, whole grain crackers and maybe some cookies. Make sure to check with the other moms about any allergies that a child might have and try to accommodate them. Be sure to have snacks and beverages for the moms, as well. Coffee, tea, and water with fruit and bagels are always appreciated! Or consider having a pot luck. Encourage moms to bring something to share. Moms will be less likely to cancel at the last minute if they are responsible to bring a food item.
Agenda
Agendas are always interesting with little ones. Sometimes… okay, MOST times… the only parts of the agenda that you can really stick to are the start and end times. Maybe that's all you need. But if you decide to have stations and activities, let the moms know when everything will be happening and that it's okay to deviate from the plan. Consider nap times in planning when your play date will begin and end. Plan for your play dates to be about two hours in length. Once you pass that two hour mark, kids start to get fussy and tired. End the party on a happy note!
Have fun!
Generously sponsored by 
Launched on Mother's Day 2006, Happy Family is the leading premium organic food brand delivering optimal nutrition for babies, toddlers, kids, and adults. Beginning with a baby's First 1,000 Days – from conception to year 2 – Happy Family provides an enlightened assortment of organic meals and snacks to help support a lifetime of wellness. Constantly innovating, Happy Family strives to offer families the right nutrition for every stage of development.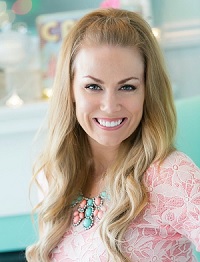 Jillian Darlington is the CEO of MomCo App Inc and an on-air parenting personality for multiple TV morning shows. As a self proclaimed "play date queen" and former owner of an indoor playground, she has a passion for helping moms connect in person. In 2014, she saw the convenience dating apps offered singles and knew moms needed something similar to make finding new moms friends and play dates easier. MomCo has revolutionized how moms can connect and supplies community leaders with inspiration and products to have successful play dates of their own.