It's not a rare sight to see a little one with a smartphone these days. Even I can admit that I've passed my phone to one of my kids to keep them occupied in a pinch.
But now that my oldest is getting closer and closer to her teenage years, I'm faced with a big question: "Mom, can I have a smartphone? Like … my own smartphone?"
I've thought about this a lot, and I can see the merits of giving my daughter a phone right away. It allows me to keep tabs on her, for one thing. And she can use the phone to get in touch with me or her dad whenever she needs something.
Plus, I respect her autonomy in many ways and want her to be able to communicate with her friends. I remember the rush I felt to get my hands on the latest technology when I was a kid, too.
But as I think about it more, I'm just not ready to give my 11-year-old a smartphone. My happy medium? You can have one once you reach 8th grade. Here's why.
I Have Plenty of Options
Smartphones are everywhere, including in the hands of most children, so I understand why my daughter wants one. But I know that smartphones aren't the only cell phones available to us in our quest to keep her connected.
In my day, flip phones were all the rage. They obviously aren't as cool now. But they get the job done—they give a child the ability to call a parent in case of an emergency. And pre-teens can use them for texting or taking pictures or playing some very basic games.
The same goes for other phones without internet and social media access. There are plenty of options that get the job done, no smart features required.
Read Next | This Is How to Hire a Baby Nurse in NYC
She Can Learn From a More Basic Device
It's so important to me that my kids remain kids for as long as possible. I encourage them to play the old-fashioned way by getting their hands dirty and breathing in fresh air and playing together.
With that said, though, I know technology is a part of life now. And I know that my daughter will want and need a smartphone at some point down the line.
However, she has a lot to learn now about how she is going to use her phone as a kid under my roof. I still want her to do all of the normal kid things, so she's going to have to learn how to use her cell phone healthily before she graduates to an even more distracting device.
The next two years will be a dry run. She'll have to prove to me that she can handle her cell phone and still make time for the activities, homework, and friends that will continue to be important when she has a smartphone.
So, by the time 8th grade rolls around and it's time for a snazzier device, she'll know when to put it down and enjoy her life.
Social Media Has Rules
In the United States, the Children's Online Privacy and Protection Act (COPPA) has been in effect since Y2K and protects private, identifying information about children under age 13.  Facebook, Instagram, Snapchat, etc. require users to create a profile that includes personal, private information and – therefore – restricts access to users under age 13. If I chose to let my child under the age 13 use social media I would not only be exposing them to the dangers of the internet and the toxicity of things like cyberbullying, diet culture, and unrealistic beauty standards—I would also essentially be telling my children it's okay to break the law. This is not an example I want to set nor is it something I think children under 13 are ready for.
With the news that Facebook is developing a version of Instagram for kids under 13, there are already attorneys general from 44 states urging Facebook not to move forward with this app. In a letter from the association of Attorneys General to Mark Zuckerberg, they said "Use of social media can be detrimental to the health and well-being of children, who are not equipped to navigate the challenges of having a social media account. Further, Facebook has historically failed to protect the welfare of children on its platforms."
Regardless of the potential this app has for parental controls, as a Mother, all I see with this move from Facebook is a way to profit off of our children—not protect them. This app, and any future social media targeted at children, would not encourage me to let me children get smartphones any sooner.
I Still Have Tabs on Her
A big reason why I considered giving my daughter a smartphone now is because it does give me peace of mind. I could turn the location on and see where she is at all times. I could pick up my phone, call her—or text her, of course–and get in touch, no matter what.
These are all very appealing reasons to give a child a smartphone. Nevertheless, I've realized that I still spend quite a bit of time with my daughter. I know where she is and the activities in which she's partaking. If I need to find her, I can. If I need to contact her, I'll call one of the grown-ups who's supervising.
I know when my daughter starts driving or staying out late on the weekends that it'll be a different conversation. But for now, she's fine without a high-tech device. She can call me on a plain, old cell phone—or I can go to where I know she is when I need her.
She's Not Ready Yet
Every family and child will be different. There's no right age for giving your child a phone. You can only consider all of the factors and go from there.
I look at my 11-year-old and I still see a child. I'm sure I'll always see her as a much younger kid, but, for now, I just don't feel like she's ready to have a smartphone. I want to preserve a bit of youth and innocence before she hits her teenage years. And I really do think that, when she has kids of her own and looks back, she'll thank me for making her wait.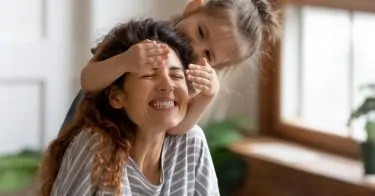 Read Next | This Is Where to Hire an Amazing NYC Nanny
---
Kara Reynolds is the founder and Editor-in-Chief of Momish Magazine, an inclusive parenting magazine filled with parenting hacks, advice and more to keep your beautiful family thriving. As a mom and stepmom, Kara hopes to normalize blended families and wants her readers to know that every family is beautiful and messy just how they are. When she's not writing, Kara enjoys pilates and likes a little coffee with her cream. Find more from Kara on Twitter @MomishMagazine.
Like what you read? JOIN the Mommybites community to get the latest on FREE online classes, parenting advice, events, childcare listings, casting calls & raffles, and our Parents With Nannies Facebook group. SIGN UP NOW!