Covid-19 has brought about a lot of negativity and fear. But one good thing that's come of it is an increase in dog adoptions! Dogs who may have had no hope before now have loving homes with pup parents who spend enough time at home to love and care for them.
If you've been contemplating getting your first family dog, it's a wonderful step to take to expand the family. But how do you know if it's the right time? How do you choose the right pup to adopt? And how do you make sure pooch and kids coexist happily?
Below you'll find what you need to know before, during, and after adopting a new family pet. Every dog is different and every family is different, so you may need to make some tweaks. But this is the info we wish we'd had when we adopted our first dog!
When to Get a Family Dog 
Is it a good idea to get a dog before you have kids? Is it easier to introduce a new dog to your kids, or a new kid to your dog?
There's no right or wrong answer. If you're trying to decide on which one to get (or have!) first, it's totally up to you. But there are two schools of thought on this topic:
Getting a dog first can prepare you for parenthood.
Having a baby first allows your child to be involved in caring for the dog from the start.
Now matter which route you take, it's important to make sure that the dog is comfortable with kids.
Adopting a dog before having a baby has it's benefits and pitfalls. It can be hard to tell how an adopted dog will respond to a child, as you'll have no idea of its previous experience with babies.
That's not to say you can't find adopted dogs that are wonderful with children, though! If you do adopt a dog before you have a child, make sure it's spayed/neutered, well-trained, and well socialized with both dogs and humans before you choose to have a baby. Also, make sure to introduce your dog to babies and children—relatives, friends' kids. Supervise your dog around children. Spending time with young children will help your dog get used to the different noises and sudden movements that children make. Your dog will learn not to feel threatened by children.
If you have a child first, we recommend waiting until kids are at least three or four years old before adopting a dog. Then, you can take the kids along for a play date with the dog before adopting it. That way, you can supervise and see how the child and dog interact before opening your home to the pup.
Also, adopting a puppy while your baby is still very young could place too much pressure on you as parents—it's like having twins!
That said, it is well-documented that having pets around during the first year of your baby's life can help develop their immune system and reduce the chances of them developing allergies later in life. If you choose to add a dog to your family when you have a very young child, you might consider adopting an older dog that already has basic training, and is known to be good with children.
If you're uncomfortable with the idea of introducing an adopted dog to a very young child, you may prefer to choose a dog from a reputable breeder (even though we're adoption advocates). That way, you know the background of the dog and can raise it accordingly with your child.
Read Next | Therapy Dogs Can Help Children Overcome Their Fears
How to Adopt a Dog 
First, we most often advocate adopting over buying. Not only are you not supporting "puppy mills" or illicit breeders, but you're offering a second chance to a dog who may otherwise have no hope.
Make sure you're adopting through a reputable agency. Some good options include:
You can either find a reputable agency or shelter that has the breed you want or take a visit to your nearest agency and see if any particular dog catches your heart.
Many great adoption agencies work with animal behaviorists. It could be an excellent idea to consult the behaviorist regarding dogs and babies. They should be able to point you to the dogs at the shelter or agency that have a gentle temperament.
Best Dog Breeds for Families 
Certain breeds have been unfairly demonized. In the end, the behavior of a dog comes down to how well it's been treated and socialized. That being said, some dog breeds are just naturally more kid-friendly than others!
Here are the breeds we recommend if you have young kids. They're all known for being family-oriented and gentle with little ones.
Golden Retriever: enough energy to keep up with active children.
Cocker Spaniel: cuddly and playful, but also happy to sit on the sofa and relax.
Irish Setter: love receiving attention and being brushed.
Beagle: excited, energetic, and with a happy disposition.
Bulldogs: it's hard to annoy a Bulldog!
Boxers: these goofy pups love attention and play.
This is by no means an exhaustive list! If there's one particular breed you have in mind, do thorough research before getting one so you're sure they're a family-friendly choice.
Mixed Designer Breeds 
Although all the breeds mentioned above (and many more) are great family dogs, one "breed" we have a special place in our hearts for is the Doodle. Doodles are designer mixed breeds, and there's a huge variety of them! They're a mix of a Poodle and another dog.
Some of the most common Doodle breeds are:
Labradoodles (Labrador + Poodle)
Goldendoodle (Golden Retriever + Poodle)
Bernedoodle (Bernese Mountain dog + Poodle)
Sheepadoodle (Old English Sheepdog + Poodle)
Aussiedoodle (Australian Shepherd + Poodle)
Schnoodle (Schnauzer + Poodle)
Cockapoo (Cocker Spaniel + Poodle)
Why are Doodle breeds so great for families? Well, they're generally of a friendly disposition, gentle (with adults and children), they don't shed, and their hair is hypoallergenic. That makes them great for cuddling and loving!
If you'd like to adopt a Doodle breed, they're not hard to find. Check out:
Getting Your Kids Involved 
Make it known to your kids from the start that caring for their new canine sibling is not just your responsibility. It's theirs, too. Not only will this help them learn about responsibility, but it will help them bond with the pup as well.
If your child is still quite young, give them a simpler responsibility, like brushing the pooch every day after dinner. This is the perfect way to help them understand that dogs need care and teach them how to handle the pup gently.
If they're a little older, you can enlist them to help you feed the pooch. They'll need to learn how to measure the right amount of food and when is the right time to feed them. This is also a great opportunity to train your pup to be patient.
As your kid and dog grow together, you can task your child with training or teaching your pup tricks. If you can, enrolling them in a training class together could be a wonderful way to help them grow even closer.
---
Mike Powell's first introduction to dogs was his father's military colleagues' service dogs. When he was old enough to get a pup of his own, his love for them only grew. Mike writes about all things dog-related at Dog Embassy.
---
Mommybites
3 days ago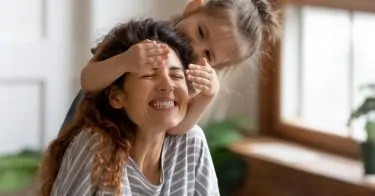 Read Next | This Is Where to Hire an Amazing NYC Nanny
Like what you read? JOIN the Mommybites community to get the latest on FREE online classes, parenting advice, events, childcare listings, casting calls & raffles, and our Parents With Nannies Facebook group. SIGN UP NOW!