Are you in a clothing funk? It's time to find your mom fashion. Maybe you've been stuck in t-shirts and sweats or whatever's not currently in the laundry. It could be that you still don't fit into your old clothes postpartum, or you've never learned your style. Now's the time to get out of your funk, find your mom fashion with clothes that fit your body the way it is now, and dress with confidence.
But does dressing well, in fashion, and for your body type improve confidence? Research shows your wardrobe affects your mental and physical performance and alters your concentration and ability to learn from and communicate with others. Learn how to dress more confidently by following these tips.
How to Dress Confidently and in Fashion as a Mom 
Rather than focusing on perceived flaws, take time to review your best features. Spend some time with yourself in the mirror. Do you love your shoulders or legs? Your hips or waist? You can buy apparel and accessories to highlight your favorite features.
Ultimately, remember that you are a woman of worth regardless of your appearance. You had the strength to deliver children into the world, and you're currently rocking the parenting journey. Own this reality, and confidence will flow from within.
Shopping by Body Type
When buying new clothing for your wardrobe, it might be wise to shop for clothing that accentuates your body type. You can determine your body type by taking four different measurements of the tops of your shoulders, the fullest part of your bust, the narrowest part of your waist, and the widest point of your hips.
Once you have your measurements, you'll better understand your body type and which style complements your build.
1. Apple
You might have an apple body type if the measurements for your shoulders, bust, waist, and hips are uniform. Examples could include shoulders at 46 inches, bust at 48 inches, waist at 44 inches, and hips at 49 inches.
To dress for the apple shape, consider using lines to draw the eye, create curves, and emphasize your favorite features. Shop for tops that use color and patterns to accentuate your shoulders, bust, and waist. Consider straight or slim-fitting jeans or high-waisted pants when shopping for bottoms.
2. Pear
For pear bodies, measurements will likely present narrower shoulders and waist, with wider hips. Your waist will be markedly defined and narrow compared to your hips. Sample measurements include shoulders at 36 inches, bust at 36 inches, waist at 30 inches, and hips at 45 inches.
When buying clothes for a pear wardrobe, aim to accentuate your bust and waist. Consider purchasing peplum tops styled to cinch at the waist and flare at the bottom to highlight your top half. When buying jeans, look for darker colors and straight-cut or high-waisted styles.
Read Next | 6 Kids Birthday Party Planning Tips
3. Hourglass
If your shoulders and hips are close to equal width, and you have a large bust and defined waist, you likely have an hourglass figure. Your measurements might look like this: shoulders at 40 inches, bust at 42 inches, waist at 32 inches, and hips at 41 inches.
Fitted and structured tops will highlight your frame beautifully. Consider purchasing wraps, keyholes, and v-neck tops. When buying bottoms, purchase pants that show off your waistline, like high-waisted and flared jeans and pants.
4. Inverted Triangle
For inverted triangle types, you'll find your shoulders are the largest and waist and hips are narrow. Sample measurements may include shoulders at 40 inches, bust at 32 inches, waist at 26 inches, and hips at 34 inches.
When shopping for tops, you'll want to emphasize your neckline and hips. Try purchasing scoop necks to highlight your collarbone or crewnecks. Peplums are another great option to give you an hourglass shape and accentuate your hips. When buying bottoms, look for pants that add volume and curves, like cropped wide-leg styles or flared jeans.
5. Rectangle
Women with uniform measurements and straight waists might have a rectangle body type. Your measurements might look like this: shoulders at 34 inches, bust at 32 inches, waist at 26 inches, and hips at 34 inches.
If you have a rectangle body, it's your call on which asset you'd like to define. If you want curves, choose tops like a sweetheart or scoop to bring attention to your neckline and bring volume to your top half. When picking and choosing tops and bottoms for your outfits, keep proportion in mind – it's perhaps best to buy entire outfits when shopping for your wardrobe.
Dress Fashionably and Confidently, Mama
When tackling each day, dressing for your body type will boost your confidence. And as a mother, don't forget to prioritize comfort and practicality for your lifestyle. Find your mom fashion by dressing for your body as it appears now, post kids.
Now that you know your body type, get apparel to accentuate your features and be prepared to dive into any parenting or work-related challenge you encounter without worrying about your wardrobe.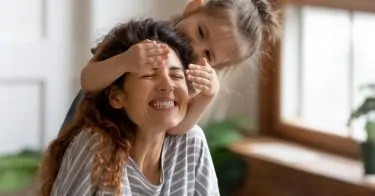 Read Next | This Is Where to Hire an Amazing NYC Nanny
---

Cora Gold has spent over five years writing about her passion for life, style, family, and more. As Editor-in-Chief for Revivalist magazine, she aims to encourage others to lead happy and healthy lives. Follow Cora on Facebook, Twitter, and Pinterest.

Like what you read? JOIN the Mommybites community to get the latest on FREE online classes, parenting advice, events, childcare listings, casting calls & raffles, and our Parents With Nannies Facebook group. SIGN UP NOW!