Having a newborn at home is hard work for a mother, no matter what the circumstances. Your partner obviously shares in this wonderful and stressful time, but they might not be as helpful for a variety of reasons. Most often, your partner doesn't know where to start. Experts Dr. Gina Lamb – Amato MD, from Village Pediatrics in New York City, Mary Ann Malone, a mom of three, and Elise Jones, a Mommybites staff member, have some advice for how to help your partner help you with your new bundle of joy.
Expert Advice: Dr. Gina Lamb – Amato
As a mother, you probably feel a special attachment to your baby that your partner may not relate to. This is because a new mother is often the one who spends the most time with the infant, and thus feels the closer bond. As a result, your partner might feel like an outsider or is not sure what to do, potentially putting strain on your relationship. When both partners know what is expected of them, things run much more smoothly.
You might work on setting schedules with one another; for example. deciding who will stay up and care for the baby at night and deciding how you will take turns doing the night feedings. Even if the mother is breastfeeding, she can pump and the partner can give the baby a bottle during the night. This allows you to get some much-needed rest and your partner to bond with the newborn! It is also important both partners have dedicated time with the baby and time for themselves as well. Your partner could take over caring for newborn when they get home from work, for example – especially if the other partner has been home all day with the baby. This gives you both time with and without your little one to unwind.
While connecting with your baby is important, make sure you also have time to yourselves to rest and connect with family, friends, and, most importantly, your spouse! Now that there is a newborn, it's more important than ever to find time together separate from your infant. Even if it's just 20 minutes a day, talking and sharing the day's events and spending time together will help both partners build a stronger relationship and feel more comfortable putting in the work to care for your newborn.
Read Next | What Ways Can Dads and Their Toddlers Bond?
Mom Advice: Mary Ann Malone
My husband was incredibly helpful when my boys were babies – after he learned how to manage our firstborn. Moms are totally hardwired to their babies while pregnant, and partners might feel a little like outsiders when your newborn finally arrives. In my experience, moms need to be specific in the beginning about what can be done to help. Be direct and communicate with your partner, and even try relinquishing some control. Your partner and your newborn will have a better bond because of it!
Mommybites' Team Member Advice: Elise Jones
TAKE TURNS! Those first couple of weeks/months are tough, and the best thing for both parents and a newborn is to rotate time "on duty" with the baby. While your partner may have to return to work rather soon after your baby is born, there are many things to be done once they are home: feed the baby, help wash dishes/clothes, cook, help tidy up the place, offer support for the new mom, and last but definitely not least, bond with the new baby! This is your time to relax while you give your partner a chance to take on baby duty.
Another way your partner can be more involved is designating shifts. They can take a night shift and either help out with the baby in the earlier part of the night (11 p.m. – 1 a.m.) or the earlier part of the morning (3 a.m. – 5 a.m.). Dividing this time so one partner can get at least four hours of solid sleep is so helpful and will help your partner take on a more active role!
Read Next | A New Mom's Guide to Taking Care of Herself
About our team
Dr. Gina Lamb – Amato MD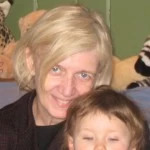 Gina is a general pediatrician and developmental pediatrician in Manhattan, NY. She has a masters in child therapy and works with a child psychologist, performing office and home consultation for newborns and parents, office and home developmental assessments, school consultations, and parent child playgroups where play and art, along with baby massage and other techniques, are used to help parents bond and support their child's development. She has extensive experience in Early Head Start programs which work with infants from prenatal to 3 years of age. She is the mother of a beautiful daughter who is the joy of her life. Finally, she is also an artist who paints mainly babies and children.
Mary Ann Malone
Mary Ann is mom to 3 boys, ages 8, 5 and 2. I am an entrepreneur, and run my company, MetroTOTS, manufacturer of the StrollAway . Besides her boys and the business, she am a music fanatic, design nerd and obsessive DIYer!
Elise Jones
Elise is the social media director and blog editor for Mommybites. She is responsible for engaging and investigating a variety of parenting topics found on Mommybites' social media channels: blog, Facebook, Twitter, Pinterest and BlogTalkRadio show. The Mommybites' blog is an outlet for moms who are in search of information to support them in their role as a parent. Prior to working with Mommybites, Elise was a teacher and worked in corporate PR. She is a wife and loving mom of two lovely girls and currently resides in New Jersey. In her spare time (HA!) she serves on her local theater board as well as blogs at Here in This House.

Read Next | Hire a Babysitter in the New York Metropolitan Area