You can often tell by looking at your baby's reactions and pleased expressions that he or she is being soothed with pain relief from a proper teething ring/teether. However, as a parent, you want to make sure that the teether is safe for the baby to chew on and is not made from a dangerous or toxic material.
Here are some of the best teething materials to consider for your child.
Food Grade Silicone
Are silicone teethers safe for a baby? Food grade silicone teethers are 100% non-toxic and shaped into all kinds of interesting and cute designs such as circles, rainbows, leaves, and even food items such as fruits and vegetables. The silicone teethers are easy to hold, come in bright colors, and are entertaining to the baby.
Food grade silicone contains no BPA, lead, cadmium, phthalates, PVC, latex, and is resistant to bacteria, fungus, and mold. These teethers are also generally easy to clean by using a mild soap and warm water or putting it into the top area of a dishwasher.
Many are filled with cooling gel that can be comforting on the sore gums of teething children, acting to reduce the swelling that comes from the teeth pushing through.While choosing what variety of teethers to have on hand for your child, silicone is definitely one to include in the mix.
Read Next | What Shots Does My Baby Receive and When?
Untreated Natural Hardwood
Are wooden teethers safe? Natural beechwood is a non-splintering hardwood that is chemical-free, antibacterial, and shock-resistant. Teethers, rattles, and wooden toys are hand-sanded to a smooth and silky finish. Wood teethers should not be submerged in water to clean; just wipe with a damp cloth.
Hardwood may not seem like the most comfortable material for teething children to gnaw on, but having something harder than silicone on hand is actually very beneficial. As the teeth start to poke out softer materials like silicone and rubber will be more easily punctured, and the resistance that hardwood gives will help strengthen the teeth and their roots.
Also, unlike hard plastic, hardwood has natural antimicrobial and antibacterial properties that kill contaminants rather than letting them sit on the surface,where it can be picked up by your child's mouth. This is why wooden toys, like wooden cutting boards, can be more hygienic than their plastic counterparts.
Read Next | This Is How to Be an Awesome Stepmom

Natural Rubber
This is an elastic material from the latex sap of trees that can be vulcanized and then finished into a variety of products including teething rings for babies. Like silicone, natural rubber is resistant to bacteria and can be a somewhat cooling material on the gums. Natural rubber also provides healthy resistance for the teeth to strengthen themselves with, and is easy to grip.
It is important, however, that you ensure that any rubber teethers you give your child are too big to fit fully in the mouth – otherwise rubber is a serious choking hazard.
Read Next | Baby Milestones: This Is What to Expect in the First Year of Life
Organic Cotton
Hand-picked organic 100% cotton is used for the super-soft stuffing along with low-impact dyes. Teethers made of this material are extremely easy to grip for tiny hands, and can be easily washed in the laundry with other items. This is great for children whose teeth haven't started emerging yet and need something extra soft to gnaw on.
Organic cotton is nontoxic, making it safe for children to teeth on without absorbing dangerous chemicals. While these are different than teethers in particular, cotton stuffed animals or cloth toys are also great items for your child to have on hand when they just want to practice gripping and stuffing things into their mouths (as babies are prone to do) without extreme difficulty or danger. As long as the toy is too big to fit fully into the child's mouth, choking risk is minimal.
Teethers can have a variety of different textures and flexibility so that they can be easily twisted and bent,and can also aid with the early development of the child's motor skills and coordination.As long as you choose non-toxic materials and they are made large enough to not be swallowed, any combination of these materials can provide great benefits to your child's teething development and comfort.
---
Meghan Belnap is a freelance writer who enjoys spending time with her family. She loves being in the outdoors and exploring new opportunities whenever they arise. Meghan finds happiness in researching new topics that help to expand her horizons. You can often find her buried in a good book or out looking for an adventure. She highly recommends nontoxic wooden toys and solid natural rubber for teething children.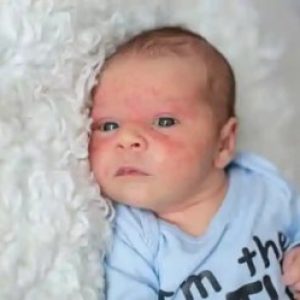 Read Next | Baby Acne: Treatment and Causes
---
Like what you read? JOIN the Mommybites community to get the latest on FREE online classes, parenting advice, events, childcare listings, casting calls & raffles, and our Parents With Nannies Facebook group. SIGN UP NOW!