Are you looking for a quick, healthy and easy snack? This banana chia pudding was a cinch to make and requires no cooking! The pudding is thick and sweet with a smooth consistency. Most puddings are complicated and take time to make on the stove top mixing and waiting to thicken.
I made this pudding in my Nutri Bullet which worked out well because I got a smooth consistency with the chia seeds mixed in. This pudding can also be made with a blender but make sure to puree the mixture until desired consistency. When left in the refrigerator overnight, the pudding gets thicker and the flavors come together. I topped my pudding with granola and sliced bananas which made it an ideal breakfast.
Get your child to help you with the recipe! Since the recipe requires no cooking or major cutting, your child can help you add the ingredients to the blender. Have your child choose the ingredients add to the pudding at the end such as chocolate chips and/or raisins. If you decide to add a touch of lemon juice to the mix, you might not develop that deep brown color that occurs when the pudding sits in the fridge over a couple of days.
Are you allergic to dairy or lactose intolerant? Make this pudding with almond milk or coconut milk. If you use flavored milk, you may want to consider cutting down on the maple syrup since it might be overwhelmingly sweet.
According to Allison Topilow, MS, RD, CDN, Nutrition Consultant, The chia seeds provide a healthful source of fat (omega-3s) along with protein and fiber. The milk provides additional protein as well as calcium and the banana is great for potassium and fiber.  Of course the syrup provides a little sugar but everything in moderation!  Enjoy this pudding as a breakfast or dessert.
Carryover Children's Books: Banana by Dan Jackson, Who Took My Banana? by Sally Huss
Ingredients:
1.5 cups of milk (I used 2%)
1 large ripe banana, broken into large chunks
3 tablespoons of pure maple syrup
1 teaspoon of vanilla extract
7 tablespoons of chia seeds (I used black but you can replace it with white chia seeds)
Dash cinnamon
Squeeze of lemon juice (optional)
Toppings:
Granola, Sliced Banana, Chocolate Chips, your choice!
Preparation:

In a blender or other appropriate appliance, add all of your ingredients (from milk to lemon juice).
Puree until smooth.
Pour the pudding into a bowl and place plastic wrap directly on the pudding. This prevents a film from developing on top.
Refrigerate overnight.
The next day, pour the desired amount of pudding into a bowl and top with desired toppings!
Eat and enjoy. The recipe serves about 3-4 people depending on portion size.
Like what you read? Sign up for our free newsletter so you can be informed of the latest FREE webinars & teleclasses, parenting articles, & weekly raffles.
Becca Eisenberg is a certified speech language pathologist and mom of two.Through her own personal challenges at mealtime with her two young children she ventured on creating a website to help parents facilitate language and make mealtime fun. Her website gravitybread.com focuses on facilitating and encouraging language with fun and easy recipes, educational books and recommended toys and apps.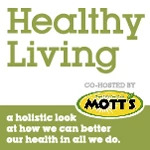 * Healthy Living is section of our website co-hosted by Mott's. Mott's has compensated Mommybites to be a partner in this awesome Healthy Living section on our website. This partnership does not influence the content, topics or posts made on this blog. We always give our honest opinions, findings, beliefs, or experiences on all topics, products, and services.
The views and opinions expressed on this blog are purely the blog contributor's. Any product claim, statistic, quote or other representation about a product or service should be verified with the manufacturer or provider. Writers may have conflicts of interest, and their opinions are their own.