Are you looking for a refreshing and healthy smoothie for breakfast or a snack? This gluten and dairy-free shake is thick, sweet and delicious. I simply pureed frozen figs with one cup of vanilla almond milk and added some ground flax seed, ground cinnamon and vanilla extract for extra flavor and nuttiness.
If you have fresh figs, wash them and freeze them whole before making the smoothie. I bought frozen figs at my local Traders Joe's. It takes about five minutes to make and can be an excellent activity for a child to participate in.
It's super easy for kids to help out since the order of the steps don't matter because all of the ingredients are all being pureed together. I used a vanilla almond milk with less sugar, which worked really well in the recipe. If you don't like your smoothie to be too sweet, use an unsweetened vanilla almond milk.
When making this with recipe with your child, focus on the actions of the steps (cut, add, slice, puree, etc). Ask your child to recall the steps at the end of the recipe and give your child the opportunity to comment on the taste. Encourage words such as cold, smoothie, creamy, etc.
According to Allison Topilow, MS, RD, CDN, Nutrition Consultant, The figs and banana provide fiber and potassium and give this smoothie a delicious flavor!  You also get omega 3 fatty acids (and more fiber to help keep you satiated!) from the ground flax seed.
Ingredients:
3 large frozen figs
1/2 of a ripe banana
1 cup of vanilla almond milk or regular almond milk
1 tablespoon of ground flaxseed
1/4 teaspoon of cinnamon
1/2 teaspoon of vanilla extract or vanilla bean paste
Preparation:
In a blender, puree all ingredients until smooth.
Drink and enjoy!
Like what you read? Sign up for our free newsletter so you can be informed of the latest FREE webinars & teleclasses, parenting articles, & weekly raffles.
Becca Eisenberg is a certified speech language pathologist and mom of two.Through her own personal challenges at mealtime with her two young children she ventured on creating a website to help parents facilitate language and make mealtime fun. Her website gravitybread.com focuses on facilitating and encouraging language with fun and easy recipes, educational books and recommended toys and apps.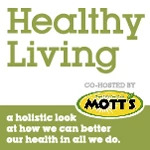 * Healthy Living is section of our website co-hosted by Mott's. Mott's has compensated Mommybites to be a partner in this awesome Healthy Living section on our website. This partnership does not influence the content, topics or posts made on this blog. We always give our honest opinions, findings, beliefs, or experiences on all topics, products, and services.
The views and opinions expressed on this blog are purely the blog contributor's. Any product claim, statistic, quote or other representation about a product or service should be verified with the manufacturer or provider. Writers may have conflicts of interest, and their opinions are their own.