Are you looking for a snack or breakfast that is sweet, nutritious and full of fiber? Try these banana date bars, with a touch of light brown sugar and tons of flavor. The bars are made of simple ingredients that most people have in the kitchen, with the exception of dates, which have a long shelf life.
The first time I made these bars, I made the mistake of thinking the dates were pitted, when they weren't. This was an error, since biting into a bar with a pit is no fun! After soaking the dates, make sure to take out the pits.
Also, the first time I made these bars, I added no sugar, but I felt the bars needed a little more sweetness. The second time I made these, I added raisins and 3-4 tablespoons of light brown sugar, which added just the right amount of sweetness and texture to the bars.
Since these bars are vegan, they are perfect for a child who is on a dairy free diet. They are also perfect for a parent on the go!
According to Allison Topilow, MS, RD, CDN, Nutrition Consultant, these delicious bars are a great afternoon snack!  They are full of fiber and vitamins and minerals, including potassium, iron, and some calcium.  Canola oil provides a healthy source of fat, and the oats help keep cholesterol down.  Enjoy!
This is an easy recipe for your child to put together with your child.  A child can easily process the ingredients together and help mash the bananas. If you do not have a food processor, finely chop the dates and then combine with the other ingredients.
Carryover Picture Books: Pete the Cat and The Bad Banana by James Dean, Don't Forget the Oatmeal Featuring Jim Henson's Sesame Street Puppets, Eat Healthy Feel Great
Ingredients:
3 ripe bananas
3/4 cup of dates pitted and soaked in warm water for 10 minutes
2 cups of old fashioned oats
1/4 cup of canola oil
pinch of salt
1 teaspoon of ground cinnamon
3-4 TB of light brown sugar
1 teaspoon of vanilla extract
1/3-1/2 cup of raisins (optional)
Preparation:

Preheat oven to 375 degrees. In the food processor, process bananas, dates, oil, salt, cinnamon, sugar and vanilla extract. I process them until slightly chunky, not pureed.
Add oats and pulse until combined.
Add raisins if desired.
Add mixture to a greased 8 X 8 square cake/brownie pan. Bake for 20-25 minutes or until done. I usually look for a toasty brown color round the edges before taking it out of the oven.
Let cool and cut.
Store in airtight container. Keeps for a good 5 days or so. It will keep longer if you store it in the fridge.
Like what you read? Sign up for our free newsletter so you can be informed of the latest FREE webinars & teleclasses, parenting articles, & weekly raffles.
Becca Eisenberg is a certified speech language pathologist and mom of two.Through her own personal challenges at mealtime with her two young children she ventured on creating a website to help parents facilitate language and make mealtime fun. Her website gravitybread.com focuses on facilitating and encouraging language with fun and easy recipes, educational books and recommended toys and apps.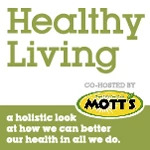 * Healthy Living is section of our website co-hosted by Mott's. Mott's has compensated Mommybites to be a partner in this awesome Healthy Living section on our website. This partnership does not influence the content, topics or posts made on this blog. We always give our honest opinions, findings, beliefs, or experiences on all topics, products, and services.
The views and opinions expressed on this blog are purely the blog contributor's. Any product claim, statistic, quote or other representation about a product or service should be verified with the manufacturer or provider. Writers may have conflicts of interest, and their opinions are their own.