A Mommybites reader asked:
My in-laws want to watch our baby but I don't really trust them. What should I say/do?
It can be very awkward dealing with in-laws or other relatives when it comes to their wanting to help take care of your baby. First and foremost, you are the baby's mother, and if you don't feel comfortable leaving her with your in-laws, then you should not. As a mother, you are the baby's protector, which means you have to keep your baby safe always. That being said, it's not easy dealing with in-laws that you do not trust with your baby.
There are several things you can do. The first is to speak to your spouse. Your in-laws are his parents and they are probably a very important part of his or her life. Hopefully your spouse will understand, agree with you, and will speak with them. If not, you will have to speak to them directly, and express your feelings and concerns. It's important to try and work with your spouse to handle his or her parents.
You also need to set boundaries and commit to them, especially if you do not feel your baby will be safe with your in-laws. When it comes to caring for your baby, your baby's wellbeing and safety come before your in-laws feelings.
Read Next | Nanny Share Tips: How Does a Nanny Share Work?

Another thing you can do is to arrange for them to come to your home while you are there, so you can observe them with your baby.
You can also arrange for them to come for babysitting training where you show and train them on how to care for your baby. There are also additional classes in most communities for grandparents to learn or "upgrade" their caregiver skills so they are more up to date on what is appropriate baby care.
You can also require your in-laws take Infant and child CPR training and First Aid. Many grandparents will have experience as parents have not cared for an infant in many years and often the standard of care for babies when their children were young has changed drastically. If they refuse to become CPR and First Aid certified or spend time "training" with you then hold firm and refuse to allow them to babysit when you are not there with your baby.
Most people are reasonable when it comes to safety and would hopefully be willing to do the above classes and training. This way you could feel more comfortable leaving your baby with your in-laws.
Remember discuss and seek the support of your spouse who can hopefully be helpful in mediating the situation. Again the most important thing is that your baby is safe and well cared for.

Read Next | This Is Where to Hire an Amazing NYC Nanny
Expert: Dr. Gina Lamb – Amato MD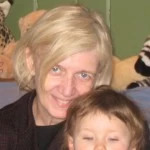 Gina is a general pediatrician and developmental pediatrician who works at Village Pediatrics and Agho Medical practices both in Manhattan, NY. She has a masters in child therapy and works with a child psychologist Rosa Vasquez PhD performing office and home consultation for newborns and parents, office and home developmental assessments, school consultations and parent child playgroups where play and art along with baby massage and other techniques are used to help parents bond and support their child's development. Formerly, Gina was the Director of Pediatric Special Medical Needs before she went into private practice where she cared for medically fragile infants and children. She is also a Early Intervention Pediatrician for Early Intervention which assesses and treats infants from age zero to 3 years. She has extensive experience in Early Head Start programs which work with infants from prenatal to 3 years of age. She is the mother of a beautiful daughter who is 3 years old and the joy of my life. Her husband is an artist, producer and owns Synchronicity Space, a non-profit arts organization that supports emerging artist in fine art and theatre. Finally, she is also an artist who paints mainly babies and children.
Like what you read? JOIN the Mommybites community to get the latest on FREE online classes, parenting advice, events, childcare listings, casting calls & raffles, and our Parents With Nannies Facebook group. SIGN UP NOW!