Fall is around the corner, and with a new season comes fresh decorating ideas. Soon it'll be time to take down your summery, beachy decor and put up more earthen elements. Decorating by yourself is only half the fun —involve your kids in the action for endless excitement.
If you need ideas on how to safely include your little ones in the festivities, check out these seven decorative ideas.
1. Vintage Signage
What better way to welcome the cool weather than with a vintage greeting? Old-fashioned decoris perfect for fall, and you can incorporate this style by creating an endearing sign to set outside your house. Look for a wood board from your local craft store. You can also buy a sign that already looks weathered. If you're more into the nitty-gritty of crafting, create the weathering effect yourself with a wood stain.
Once it's ready, break out the paint and create a masterpiece that will bring cheer to your house. Place it on the porch so your neighbors can join the merriment.
2. Wreaths
Make a wreath with your kids that you can display inside or outside your home. You have many options to choose from when it comes to creating the base of your wreath, including paper bags, plates or cardboard. You opt for leaves and flowers with fall colors for decorations, or you can keep it simple by using multicolored tissue paper.
When you finish your wreath, hang it on your front door as an eye-catching welcome to all your visitors.
3. Lanterns
Making a leaf lantern is fun and easy, and if the leaves haven't fallen yet in your area, you can try this with fake ones. You'll also need glass jars, glue and candles. Any kind of glass container is suitable, whether it's a Mason jar or an old pickle container. Glue the leaves onto the glass in any pattern you like, and let it dry.
When your creation is sufficiently dry, all you have to do next is place a small candle inside —such as a tea candle —and let it glow. This idea is sure to light up your space and make your home feel like a real autumn paradise.
4. Painted Tin Flower Pots
If you have leftover tin cans with no sharp edges, you can place them around your house as interior or exterior decorations. Just spruce them up a bit first. Use acrylic paint in earthy colors like dark green, brown or burgundy. When they've dried sufficiently, you can set them on a desk as a holder for knick-knacks.
If you use your tin cans for outdoor decorating, consider turning them into flower pots. An adult should drill a hole in the bottom of the container to allow water drainage. Once you do this, start painting. Try planting flowers like chrysanthemums, celosia, or pansies.
5. Pumpkin Decorating
Autumn is the perfect season to enjoy pumpkin —pie, latte and all the other sweet treats that include this versatile gourd. Whether straight from the patch or bought from a store, they'll create a homey mood wherever you place them. Set some on your porch as a quaint addition to your entryway. Mix and match sizes for visual variety or enlist your kids' help in painting them.
For a safer alternative to carving, cut out some fall-inspired cardboard paper shapes to glue onto the pumpkins. Give your front porch some personality.
6. Garlands
Create a garland to hang across your mantle or a doorway. One perk of making your own is the ability to use any materials you desire. Fake or real leaves will look equally lovely. You can also skip the leaves entirely and make a paper garland. To achieve that natural rustic element, try making your shapes from burlap. This material complements any fall decor and demonstrates the level of care you put into decorating your home.
7. Table Centerpieces
Place a centerpiece on your table to liven up your meals. Paper pumpkin crafts are adorable and simple for kids to make, and they don't require much time or cleanup. Depending on how much paper you have, you can make a bunch of these to use as one big centerpiece.
When your guests see the lovely addition to your table, they are sure to be impressed by your creativity.
Bring Fall to Your Front Door
Transforming your home from summer to fall will be fun and effortless with these seven decorative ideas. Gather the family around for a creative bonding experience —you'll be glad you did.
---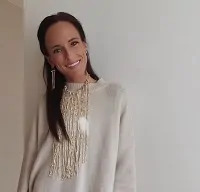 Kacey Bradley is the lifestyle and travel blogger for The Drifter Collective, an eclectic lifestyle blog that expresses various forms of style through the influence of culture and the world around us. Kacey graduated with a degree in Communications while working for a lifestyle magazine. She has been able to fully embrace herself with the knowledge of nature, the power of exploring other locations and cultures, all while portraying her love for the world around her through her visually pleasing, culturally embracing and inspiring posts. Along with writing for her blog, she frequently writes for sites like US Travel News, Thought Catalog, Style Me Pretty, Tripping.com and more! Follow Kacey on Twitter and subscribe to her blog to keep up with her travels and inspiring posts!
Like what you read? JOIN the Mommybites community to get the latest on FREE online classes, parenting advice, events, childcare listings, casting calls & raffles, and our Parents With Nannies Facebook group. SIGN UP NOW!