No matter what steps you take to keep your home clean and well-maintained, you will probably have to deal with at least a few unwanted critters on your property every spring. Luckily, the average homeowner can greatly reduce their risk of a major pest infestation by carrying out a few simple projects. Here are some of those steps you can take to keep pests out of your yard.
Thoroughly Seal Your Home
There are a few different reasons why you should ensure that your home is properly sealed, and that includes keeping bugs and rodents out. One of the most effective ways to seal a home is to use all-purpose caulk around doors, windows, pipes, and outlets. You might also want to invest in some high-quality screens that can be placed over exhaust vents and other larger openings. Those supplies can be purchased at most home improvement stores, and this project should take no more than a few hours. The result means fewer spiders, earwigs, and other home pests.
Eliminate Sources of Food and Water
Every type of bug and rodent has basic needs, and they won't stay on your property if those needs can't be met. At the very least, you should inspect your entire property for any signs of standing water once every few months. Water will often collect near outdoor spigots, under sinks, and in clogged rain gutters. In addition to keeping food debris off your counters and floors, you might also want to keep a close eye on any flowers or fruit trees on your property that might be attracting pests. 
Some flowers and herbs, like lavender or lemongrass, repel pests and make a great addition to your yard. If you're looking to improve your own natural barrier, you can also plant pest-repelling plants in your herb such as basil, garlic, dill, lemongrass, and other fun edibles that you can eat as well as plant.
Read Next | How to Avoid These Common Springtime Illnesses
Keep Your Home and Yards Clutter-Free
Almost all pests are going to need a safe and secure location where they can create a nest or colony as well. The vast majority of bugs and rodents prefer areas that are out of direct sunlight and far away from heavy foot traffic. Cleaning up debris in the yard and clutter in your home will make it much more difficult for invasive pests to find shelter. If you have a playset in your yard for the kids, make sure to seal any wood and plug up any hollow plastic or metal parts so that pests can't get inside. Hollow metal or plastic piping is especially attractive to wasps. It. can also be dangerous for kids. Find general yard maintenance tips here. 
Picnic With Awareness
When the weather is nice out, it's always tempting to go take your lunch or dinner out into the yard. It's especially tempting when the kids are in the mood for a messy snack and you'd rather keep that far away from your living room furniture. However, you want to make sure that you're keeping food contained into a patio area that is easy to sweep clean. Any crumbs or peanut butter smears that stick around will attract pests, especially anything with sugar. Ants especially will set up shop anywhere that they think will become a consistent source of food.
Wasps are also among the more aggressive pests that are attracted to the smell of sugar, so sugary drinks like lemonade should be kept capped if you're taking them outside. Popsicle sticks, though biodegradable, will also attract those sugar-seeking pests if you leave them littered about the yard. To keep the bugs away, you can set up traps like wasp traps in your yard (though not too close to where you'll be eating) and have your yard treated to repel pests.
Contact the Professionals
A few DIY projects can be very helpful, but there will most likely come a point when you want to contact professionals as well. A company like The Mosquito Masters can help you get rid of current infestations and help you come up with a plan for avoiding future pest problems. Many of them also offer affordable service calls where they can be scheduled to come once every few months. Mosquitos are especially important to keep out as they can transfer diseases when they take your blood, especially hazardous for younger children with weaker immune systems. 
While spraying your yard may seem scary, it's easy in today's competitive market to find companies that use treatments that are safe for kids and pets. Many pesticides are made from the same chemicals naturally find in plants, such as Chrysanthemums, that repel insects. If you're still concerned about using sprays, planting the previously mentioned herbs is the next best thing for keeping the bugs away.
Even after taking these steps, a bite or sting could still occur. If you think that your child might have been harmed by a pest, then you should immediately head to the hospital or contact their primary physician for further instructions.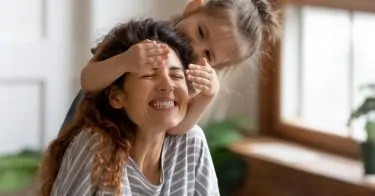 Read Next | This Is Where to Hire an Amazing NYC Nanny
---
Meghan Belnap is a freelance writer who enjoys spending time with her family. She loves being in the outdoors and exploring new opportunities whenever they arise. Meghan finds happiness in researching new topics that help to expand her horizons. You can often find her buried in a good book or out looking for an adventure. She highly recommends The Mosquito Masters for keeping mosquitos out of your yard.
Like what you read? JOIN the Mommybites community for the latest FREE online classes, parenting advice, events, childcare listings, casting calls & raffles, and our Parents With Nannies Facebook group. SIGN UP NOW!