My daughter reached for the plate of chocolate truffles on the kitchen counter (the healthy kind sweetened with dates, of course…) As we talked, I watched her pop one after another into her mouth. "Are you even hungry?" I asked. "You're eating them so fast, you won't even notice when you get full."
Think of how often we eat mindlessly. We eat when we're bored, when we're preoccupied, when something just looks too yummy not to eat, or just because it happens to be mealtime. Frequently, we eat way more than we should – without even enjoying it – and then we're left with nothing but regret.
Practicing mindful eating helps us to truly savor our food. We learn to tune in to our body cues and notice if we're eating out of actual hunger or just out of habit. (Think about popcorn at the movies.)
Tips for teaching your kids to eat mindfully:
Ask them to "take their hunger temperature" – to see how hungry they actually are. You can ask them to rate their hunger from 1-10 before they start to eat, and then
Remind them to use all their senses as they eat:
LOOK – Notice all the colors and shapes.
SMELL – See if they can guess what it is with their eyes closed.
TASTE – Savor it fully.
TOUCH – What is the texture of the food?
LISTEN – How does it sound when they eat?
Help them get in the habit of describing their food using adjectives (instead of "it's good" or "it's bad").
The more mindful they become, the more descriptive they'll become. You may even inspire a future "foodie".
Like what you read? Sign up for our free newsletter so you can be informed of the latest FREE webinars & teleclasses, parenting articles, & weekly raffles.
Lynne Goldberg is a certified meditation coach and co-founder of OMG. I Can Meditate!, a mobile and web mindfulness app that can teach meditation to anybody in just 10 minutes a day. Lynne's simple and clear teaching style has brought the joy of meditation to stressed-out business executives, soccer moms, eighty-year-olds, kindergarten kids, and everyone in between. She is the author of the book Get Balanced. Get Blissed.
OMG. I Can Meditate social channels:
Website, Facebook, Twitter, Instagram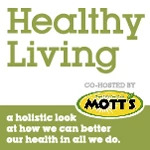 * Healthy Living is section of our website co-hosted by Mott's. Mott's has compensated Mommybites to be a partner in this awesome Healthy Living section on our website. This partnership does not influence the content, topics or posts made on this blog. We always give our honest opinions, findings, beliefs, or experiences on all topics, products, and services.
The views and opinions expressed on this blog are purely the blog contributor's. Any product claim, statistic, quote or other representation about a product or service should be verified with the manufacturer or provider. Writers may have conflicts of interest, and their opinions are their own.