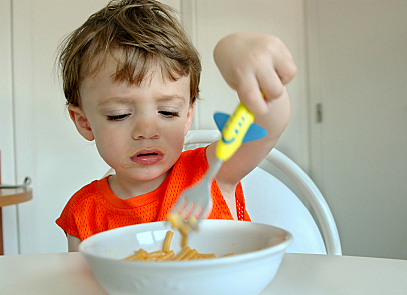 Picky eating is a common issue facing parents – so common that many of us just resign ourselves to it! But did you know there may be ways to prevent it?
We recently held a teleclass, expertly facilitated by Amy Marlow, registered dietitian and mom of three, and generously sponsored by Happy Family and buybuyBABY, where participants learned what steps they can take – from pregnancy to childhood – to raise a child who accepts a variety of foods.
In case you missed it, you'll find a link to the recorded teleclass HERE.
Amy shared some underlying causes of picky eating, described preventive strategies you can use at every stage of your child's development to help shape their food preferences, and made suggestions for ways to reduce mealtime battles.
She ended the session with practical tips that you can implement immediately and a game plan for raising a healthy and happy eater for years to come!
Happy Family also wants to share their handy Nutrition Guide for infants and toddlers.
Further, Amy's 5 Tips for an Easy, Healthy Breakfast (originally posted on the Happy Family blog) are as follows. Enjoy!
You've heard it before: breakfast is the most important meal of the day. Well, it's true! Kids who eat breakfast may be able to control their appetite better, possibly contributing to a healthier weight. Breakfast has been linked to a lower risk of heart disease, diabetes, and kidney disease, and even to better performance in school. Now if only it would serve itself! Hectic mornings can make it feel like a healthy breakfast is beyond your reach. But, with a little planning and know-how you can serve your family an easy and healthy morning meal and still get where you're going on time. Here are some tips:
Think outside the (cereal) box. Don't limit yourself to "breakfast food". Toddlers don't know that a turkey burger isn't standard breakfast fare! Serve up hummus with toast triangles for dipping, or a turkey sandwich. Throw a piece of fruit on the plate and voila: breakfast.
Pancake it! Though we adults eat pancakes on a plate with a knife and fork, they are actually a great grab-and-go finger-food for toddlers and kids! Plus, few breakfast foods allow you to stuff more nutrients inside. Add oats or ground flaxseed or other grains and seeds to add fiber, vitamins and minerals. Mix in fruit purees instead of melted butter or oil. Try our recipe for Mega Pancakes here.
Include protein. Protein helps lengthen the amount of a time a child will feel satisfied after a meal. Here are some easy ideas: Give a cup of milk (cow's or soy), melt a slice of cheese on a slice of whole grain bread, make a yogurt parfait topped with fresh or frozen fruit, make a sandwich with nut butter and fruit preserves. If you're more ambitious, make a quiche with egg, cheese and veggies (this freezes well too!).
Sip, sip hooray! If you have a blender, you have a powerful breakfast tool. Make a smoothie with yogurt or milk (cow's, soy, almond…any of them!) and fruit (fresh or frozen). If you really want a nutrient boost add a vegetable like spinach or beets, a grain like wheat germ or ground chia seeds, or even peanut butter! Serve in a straw cup with a lid so you can take it on the go if you have to run out the door.
Make ahead –Reduce your morning workload by preparing breakfast in advance.Make a double batch of pancakes on the weekend and save half to serve during the week. Put the ingredients for your smoothie into the blender the night before and keep in the fridge until morning. I've even been known to cook a pot of oatmeal and keep it in the refrigerator for a few days! To reheat, add a touch of milk and heat, covered, on the stove or in the microwave.
Generously Co-Sponsored by
Amy Marlow is the Nutrition Advisor for Happy Family, the leading premium organic food brand delivering optimal nutrition for babies, toddlers, kids, and adults. She is a registered dietitian (RD) and New York State certified nutritionist, with a Bachelor's degree in Nutrition and Dietetics and a Master's degree in Public Health. Amy serves on the Board of the Pediatric Nutrition Practice Group of the Academy of Nutrition and Dietetics and helps run the wellness program at MetLife. She is a published author, a blogger, and has presented on a variety of nutrition and health topics to professionals and the public, and is the proud mother of Noah, Alana, and Jonah.
buybuyBABY's mission is to ensure that new and expectant parents have everything they need to confidently welcome their baby and navigate the transitions of life as a family. They offer a fantastic selection of baby merchandise including strollers, car seats, baby nursery furniture, crib bedding, diaper bags and much more.
Like what you read? Sign up for our free newsletter so you can be informed of the latest FREE webinars & teleclasses, parenting articles, & weekly raffles.
The views and opinions expressed on this blog are purely the blog contributor's. Any product claim, statistic, quote or other representation about a product or service should be verified with the manufacturer or provider. Writers may have conflicts of interest, and their opinions are their own.