Are your kids missing out on spending time with their friends? Fortunately, technology has made it possible for virtual interactions.
Netflix and other streaming services have made it possible to stream a show or movie across multiple screens all at once. It is also now easier for kids to navigate the Netflix website. Even though your children may not be able to watch a movie with a friend in person, they can view the same film simultaneously from the comfort of their home. Here's how to throw an amazing Netflix watch party for kids.
How to Use the Teleparty Feature
The Netflix Party feature is now Teleparty, which supports Netflix, Disney Plus, Hulu and HBO Max, meaning you don't need Netlix to have a successful watch party. Teleparty is free to download as well and is the most popular. Here's how you can use it:
Install the Teleparty extension. You can just search it in your search engine.
Then, you'll want to pin the extension to your address bar for easy access.
You can stream from any streaming site that is included in Teleparty.
To create the party, click on the red "TP" button that should be near your address bar. Start the party and share the URL with your kid's friends.
If someone else starts the party, you should receive a link to it through email, text or another form of messaging. Click on the link, which takes you to the streaming service. Then, click on the "TP" to join the party.
Once you know how to use Teleparty, you can get the party started. Other streaming service apps you might want to check out include Scener, Amazon Watch Party and Metastream.
Read Next | Parenting the Third Child(Opens in a new browser tab)
Vote on the Perfect Movie
With parental supervision, allow the kids to submit a movie of their choice. Using a video or phone call, your children can debate and vote on the movie to watch. It will be an excellent way for them to learn to compromise on something.
Age-appropriate boundaries are important to keep in mind for a watch party for kids. Here are a few great movies for a watch party:
If needed, you can choose a movie for the kids to ensure it is safe for viewing.
Set Up a Home Movie Theater
Kick the party up a notch by turning your home into a movie theater. You can do this in a few different ways if you have a projector. One way is by projecting the screen onto a blank white wall. If you don't have a large enough wall space, you could hang up a white sheet.
For those of you who want to take the party outside, you could project the movie onto your garage door. If you have a white or light gray door, you can project the movie directly on it. If not, then just use a white sheet to cover the door. Usually, garage doors work well because they're flat, and you can set up a safe sitting space in the driveway.
Additionally, gather your child's favorite snacks to munch on throughout the party. Whether it's popcorn and candy or a bowl of fruit, your child will love being able to eat and enjoy a show.
Watch Your Kids Enjoy the Experience
Once everything is set up, your child can choose a fun avatar, and hit play. Your child has the opportunity to message their friends through the Teleparty app to talk about the movie while it's playing. Kids need to have social interactions, and this is a safe and fun way to do so despite there being a pandemic.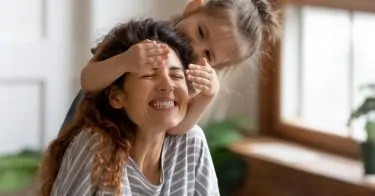 Read Next | This Is Where to Hire an Amazing NYC Nanny
---
Cora's passion is to inspire others to live a happy, healthful, and mindful life through her words on Revivalist – wholeheartedly convincing them that everyday moments are worth celebrating. Cora has spent 5+ years writing for numerous lifestyle sites – hence her sincere love for both life and the beauty of style in all things. Keep up with Cora on Twitter, Pinterest and Facebook.
Like what you read? JOIN the Mommybites community to get the latest on FREE online classes, parenting advice, events, childcare listings, casting calls & raffles, and our Parents With Nannies Facebook group. SIGN UP NOW!