As we approach Mother's Day a year into the pandemic, it is more crucial than ever to truly take care of ourselves as moms. Self-care ideas are typically working out, taking a bath, reading a book, scheduling a girls' night, or a massage. Although all of those are important and should still be something to do—let's take it a step further. Given the year we have had most of us are emotionally depleted. I would truly spend time reflecting on the type of mom you want to be and what you truly need for self-care.
Journal and write about it if you have to. Spend time scheduling "thinking time" or therapy to really hone in on what you want to be doing. Whether that is hobbies or interests to work on, examining the type of mom you want to be can really help. Trial and error to gure out a better self-care plan is not just for Mother's Day but to carry you through on your journey as a mother. Taking what we learned from this past year and being more strategic, thoughtful and well-thought out in areas of our self-care will allow us to become better moms.
As an owner of a therapy practice, this year has taught me that most moms feel they have lost their way. You may have been a lucky one during the pandemic who got your health back on track or who started gardening or writing a book. For most of us, we were coasting and surviving. Feeling so defeated by the stress and all-encompassing needs of our children amidst health, financial and social justice crises.
Taking a break from family obligations often creates anxiety and guilt in moms. Taking a break from what seems like Groundhog Day—the chores, cleaning, working and being constantly "on"—takes a significant toll on our psyche. When we recharge our batteries and take a moment to reflect, have fun or decompress, it will only help ourselves and our family. We will actually miss our kids too. Maybe…LOL.
Burnout is emotional and physical exhaustion leading to a diminished ability to empathize and show care. This is a term I know oh so well as a therapist but it completely relates to moms. We give and we give but at a cost. Sheryl Ziegler, author of Mommy Burnout, said it's "the emotional and physical exhaustion that you feel from the chronic stress of parenting." If you're a mom feeling burnout who isn't able to engage in self-care, please consider contacting a therapist for more help.
Read Next | Self-Care Tips For New Mommies
Try these self-care tips and develop a plan for yourself moving forward.
One self care tip is to do something REALLY fun! Go roller skating, go to IFLY, karaoke, a comedy show (even watching a Netflix special)—step out of your comfort zone to remember to have fun first of all, but to also reconnect to another part of yourself.
Remember activities from your youth you really enjoyed or something you always wanted to try.
Have more fun around the house. Moms put everything on hold for themselves especially while caring for young kids. Listen to a podcast while cooking dinner or doing the dishes. Put music on in the house at bedtime and let your kids have a dance party. Bring the FUN back into your life.
Here are some other self-care activities to try!
Try mediation or breathwork.
Spend time outside and in nature.
Start a happiness file
Learn to say no-so you ll your days with things that matter most
Schedule alone or girl time.
There is more than one way to meditate. It could be a mindful meditation walk in nature of being silent and taking in what is around you. It could be doing breathwork such as the Wim Hof Method of doing different types of breathing exercises. Or listening to a meditation of music or talk down on YouTube.
According to White et. al, Did you know that spending at least 120 minutes in nature a week is associated with good health and wellbeing? Now that the weather is nice nd extra ways to get outside, put your feet in the grass or sand. Sit outside and drink your coffee. Finding ways to be outside more improves your overall mood.
Start a happiness file. This is a way to cultivate gratitude by taking a moment to open up the notes app in your phone and listing things to be grateful for. You can also list memories and events that have happened that make you happy. It may be a milestone with one of your children. Or seeing them smear ice cream over their face and beaming ear to ear. You are writing down those precious moments in your happiness file so you can reflect on these moments when you are feeling down and need a mental boost.
Learn to say "no" more. Pay attention to yourself if you truly want to say "yes". Often we feel obligated to say yes and don't even have the time or energy. Saying "no" more will allow you less stress and to practice what you truly want. It allows you to check in with yourself more as well.
Schedule time to be alone or with your friends. Maybe you need to take a walk in the evening by yourself just to clear your mind. Or meet friends for a walk or dinner. Some of us treasure alone time while others crave more social time. Figure out the balance for yourself and plan ahead to make it happen!
Remember this quote by Alexander Den Heijer, "You often feel tired not because you've done too much, but because you've done too little of what sparks a light in you." Prioritze yourself and the benefits will expand into your family. Happy Mother's Day!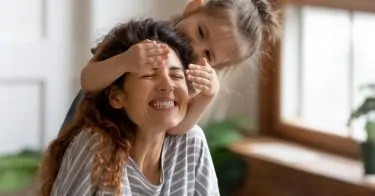 Read Next | This Is Where to Hire an Amazing NYC Nanny
---
Dr. Jennifer Politis, PhD, LPC, of Wellness Counseling of Bergen County, is a therapist and educational psychologist specializing in therapy services for children and adults in Bergen County. She works with women dealing with issues related to motherhood, life balance, stress and relationships. Dr. Politis also works with children and adolescents that have learning differences, academic challenges, behavioral issues, depression and anxiety. Dr. Politis earned her doctoral degree from Fordham University. She is a Licensed Professional Counselor, Licensed Mental Health Counselor, School Psychologist and Certified School Counselor. Phone: 201-661-8070 Email: [email protected]
Like what you read? JOIN the Mommybites community for the latest FREE online classes, parenting advice, events, childcare listings, casting calls & raffles, and our Parents With Nannies Facebook group. SIGN UP NOW!