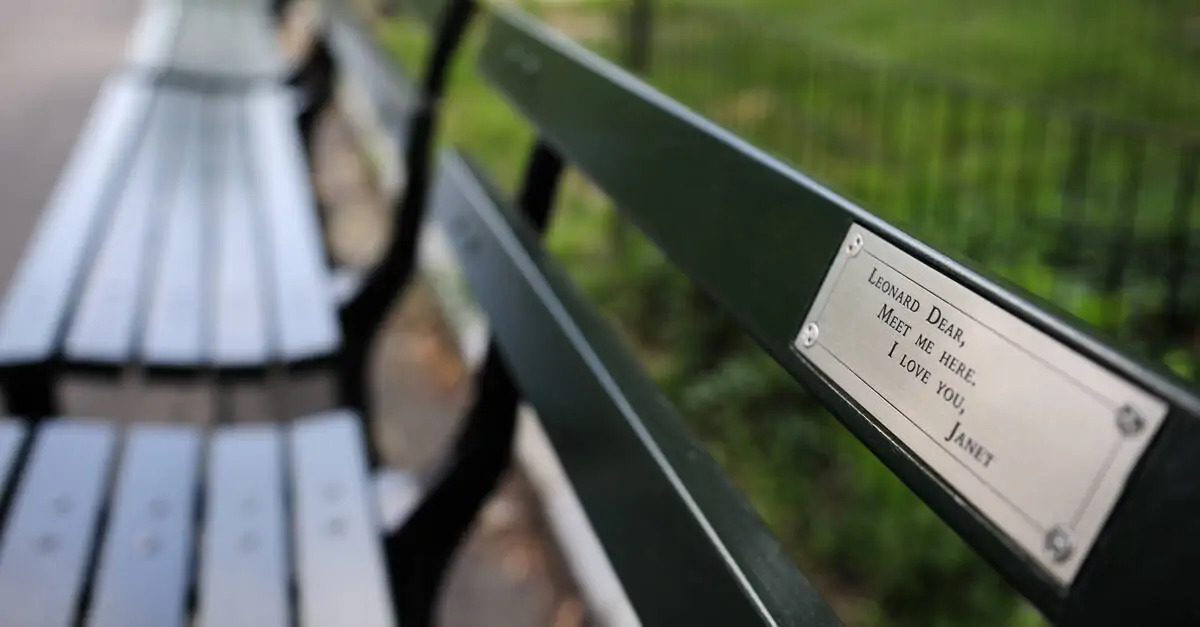 If you've ever strolled in Central Park, you have seen that there are thousands of benches throughout the park. Each with a unique view, providing a place to take a break, feed a baby, rest tired feet, have a chat, read a book or just take a moment to take in the true splendor of this peaceful and beautiful oasis in our city.
Perhaps you have noticed that most of the benches of Central Park have a plaque on them. Maybe you have stopped to read a few here and there while you enjoy your stroll. For me, these plaques tell the love story of New Yorkers. Together, they capture the heart and soul of this great city and its people. They are the ultimate compilation of a letter of love from New Yorkers themselves.
Recently, I made it a point to take long walks and take notice of the words on many of the benches in Central Park. What I read made me smile, laugh, and even cry. I fell in love with my city all over again.
So many of the benches in Central Park are in memory of a loved one
You read them and you can't help but empathize with the loss and have hope that this gift somehow brought the grief-stricken some comfort…
For C& B- who survived the holocaust, and began a life in this city. With deep love and abiding memory- from your children and grandchildren.
E&E Lovers of history and people, explored and loved NYC. In our hearts they live on.
Mimi's Bench. A place to sit and ponder how precious life is. A place to reconnect with an angel from above. We love you Mummy, Wendy & Lynn.
In memory of Thad Matthew Mishara. 1966-2002. Who loved to be at the zoo when he was very young. So we moved close by.
L.H. 1912-2006 M.H. 1912-2010 Married Valentine's Day 1935. A dearer couple there was not. Their spirit surrounds this special spot.
In loving memory of Tille Goldman. She loved New York in June. She loved a Gershwin Tune. Central Park was her estate for 95 wonderful years (1906-2001)…
The beautiful Kate Kaurate, age 18. Deserved so much better & died so young. I was so moved by you. I would've done anything to save you.
Many benches in Central Park capture the true essence of love and romance…old and new
You can't help but wonder: How was the bench revealed? What was that moment like for the giver and the recipient? Where are they now? How often do they find their way back to the park and to 'their bench'? Have they shown the bench to their children? Will their great grand children seek it out as a testament of their love? Have these great loves weathered the test of time?
You can't help but wonder: How was the bench revealed? What was that moment like for the giver and the recipient? Where are they now? How often do they find their way back to the park and to 'their bench'? Have they shown the bench to their children? Will their great grand children seek it out as a testament of their love? Have these great loves weathered the test of time?
Patti & Tom. September 18, 2004. The beginning of forever.
To my sweetie Laurie I love you, I adore you, I cherish you. Will you marry me?
59th Wedding Anniversary 2008. On June '43 Lt. Nathan Polsky and his love Janet sat on this bench from dusk to dawn before he left to serve overseas.
To celebrate our 60 years of happiness, This is where it all began April 1942.
After standing by me through thick and thin for 45 years- have a seat.
Angie, Have I asked you to marry me yet today? Love, Mike.
For my wife, Mrs. Wonderful… (the bench next to it reads: For Mr. Wonderful).
Carol, I'll be sitting next to you until eternity, Love, Mike.
My Dearest Nancy You know that I love you. Let the world know as well – Stanley.
Read Next | Beverly Cleary: A Beloved Author Remembered
Benches that capture the directness of New Yorkers
Sit. Relax. Take a Deep Breath. Enjoy the day.
COME SIT ON ME.
DAYDREAMERS WELCOME.
Enjoy a moment of peace.
A Place to Dream.
THANKS.
New York  Humor
For S.  A True New Yorker and a real Mensch.
YOUR TUSH HERE.
What you hear here, stays here.
I love you very much and look forward to marrying you… but if we have a fight, you can always sleep here.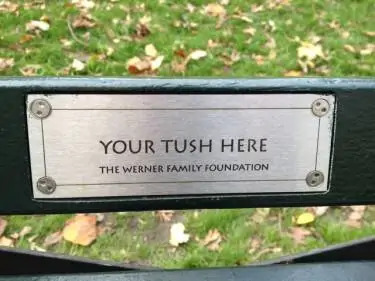 Many benches in Central Park honor beloved dogs
In memory of our precious dog Shaggy (1976-1988).
To man's best friend who brought the best of friends together.
In loving memory of Rocky (1986-2002) Devoted Golden Retriever and very best friend.
Earl the Pearl is here, Let the squirrels beware.
In celebration of the extraordinary life of Lord Randall, the Bulldog. And all other canine companions who pass along this way.
On behalf of all the dogs, Thank You Central Park for year-round beauty.
Once in a while you even happen upon a name that you associate with NYC immediately.
A gift to New York from the Helmsleys.
A Gift from Bloomingdale's.
Melania and Donald J. Trump.
Come sit with me and enjoy the pleasures of the Great Lawn in Central Park- Ed Koch Mayor of NYC 1978-1989.
Quite a few benches make us stop and remember 9/11
We honor all those who perished on September 11, 2001.
In memory of T. Who was taken from us on September 11, 2001. Loving son, brother and friend.
In loving memory of our dear P. WTC 9/11/2001. You are the quiet bird in circled flight; the soft star that shines at night.
Benches that celebrate the gift of family: the miracle of births and blessings of parents, children, and grandchildren
For Margeaux, born a few blocks from here in May 2008. We wish you the best life can bring- From Mom & Dad.
You gave parenting a good name. I think of you every day. Love Jacqui.
To the sunshines of my life: Lorraine, Lea, Coralie and Lucas. To the great times we have had in this city and in this park.
Sophie has arrived! December 29, 2006.
For Dad, so you'll always have a place to sit and rest your eyes.
To Central Park, where I spent so many happy times, with four generations of my family.
Some shout out a genuine love for the city itself
Love NY City, walk, read the NY Times, cherish friends, dress well, be amusing.
play with babies, eat kit-kat bars and ice cream, but stay slim.
Spider-Man applauds all the Little Apple Heroes. And all the kids of NYC. Summer 2004.
We fell in love with this city, through your eyes. Love, your adoring family.
Countless benches simply express gratitude to Central Park itself
Sit in the sun and run free in our awesome backyard.
Central Park has " the best of everything."
In this great park I walked, I talked, I sat, I read. Life is not a walk in the park. So "I did it my way."
My Favorite Spot. In my Favorite Park. In my favorite city in the world.
May we enjoy the beauty of this park with good friends.
Thank you Central Park for letting us, and so many others, spend so many wonderful years in your loving arms.
These are a mere sampling of the heartfelt sentiments recorded throughout the park. The Adopt-a-Bench program was established in 1986 and has led to the adoption of over 2,000 of the Park's 9,000 benches. Most benches can be adopted with a donation of $7,500. A limited number of rustic benches can be adopted for up to  $25,000. Those who make these donations receive a personalized plaque on the bench that they choose. The price might be steep, but it's a truly unique way of supporting the park.
If you could, whom would you dedicate a bench to? What would your plaque say?
In the meantime, Thank You New Yorkers for opening your hearts on our park benches. Your words of love move us, and once again, make us thrilled to call this great city our home!
Originally published November 22, 2012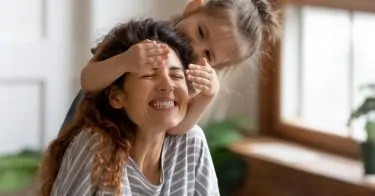 Read Next | This Is Where to Hire an Amazing NYC Nanny
---
Prior to becoming a stay at home mom, Mina was an HR Recruiter for years. Now her time is spent happily juggling the demands of two daughters while trying to expose them to the endless adventures the city has to offer.
Like what you read? JOIN the Mommybites community to get the latest on FREE online classes, parenting advice, events, childcare listings, casting calls & raffles, and our Parents With Nannies Facebook group. SIGN UP NOW!
Mommybites
1 day ago