Physical therapist and author, Marianne Ryan explains why French women regain their pre-pregnancy figures so much faster than American women after childbirth. Learn how new moms in the US can prevent long term complications and look and feel better, faster after childbirth.
Pregnancy isn't all sunshine and roses. While it may be the most exciting time in a woman's life, it brings with it a long list of issues that most women simply aren't comfortable discussing, even with their doctors. That's right – I'm talking about a leaky bladder, pelvic pain, and a flabby stomach, just to name a few.
In the US, there is top-notch prenatal care, but once a woman gives birth, she is basically left to fend for herself with the often-overlooked postpartum issues I just mentioned. The attitude is that a woman's body will somehow magically "snap back together" after childbirth.
Not true!
Even if a woman feels great after delivery, studies  have shown that these problems can take years to show up and are directly related to childbirth. Did you know that nearly 50% of all women suffer with urinary leakage at some time in their life and 25% suffer with pelvic organ prolapse?
A lot of these "unpleasant" problems can be prevented and resolved if women take their postpartum recovery seriously by doing a postpartum rehabilitation program for the pelvic floor muscles  and abdominal muscles. It doesn't need to be a grueling exercise program; a focused program that takes about 15 minutes a day can target those muscles and help women restore their bodies.
The French are different!
Did you know the French government pays for physical therapy treatment to help mothers restore strength in their pelvic floor and abdominal muscles? That's right; the French government pays for women to rehabilitate their "lady parts" and flabby stomachs! Every woman is encouraged to go for physical therapy treatment after each and every birth. They don't wait months or years; mothers in France address these problems 6 weeks after they give birth. This not only makes them feel and look better, but it can potentially prevent developing complications years later. Now I call that taking postpartum recovery seriously!
The Solution
In an ideal world, women should see a physical therapist that specializes in women's health for treatment after each and every birth. Studies have show that physical therapy treatment can prevent or cure many problems women may develop as a result of childbirth, like back and pelvic pain, pelvic organ prolapse, diastasis recti and a leaky bladder. These problems may arise right after having a baby or even years down the road.
My best advice to moms is not to wait for your health care provider to suggest going to a physical therapist for a preventative check-up or treatment. It is not the norm here in the US, but should be. It is up to you to become proactive in your own health.
To find a physical therapist who specializes in women's health care you can go to the Section on Women's Health of the APTA website or Move Forward PT to locate a specialist in your area.
Like what you read? Sign up for our free newsletter so you can be informed of the latest FREE webinars & teleclasses, parenting articles, & weekly raffles.

Marianne Ryan PT, OCS is a physical therapist and board-certified orthopedic clinical specialist. She is an award-winning author of the international best selling book, Baby Bod – Turn Flab to Fab in 12 Weeks Flat, Clinical Director of MRPT Physical Therapy in New York City and a spokesperson for the American Physical Therapy Association Media Corps. With more than 30 years' experience, she specializes in helping women reclaim their bodies after childbirth. BabyBodBook.com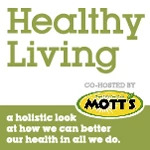 * Healthy Living is section of our website co-hosted by Mott's. Mott's has compensated Mommybites to be a partner in this awesome Healthy Living section on our website. This partnership does not influence the content, topics or posts made on this blog. We always give our honest opinions, findings, beliefs, or experiences on all topics, products, and services.
The views and opinions expressed on this blog are purely the blog contributor's. Any product claim, statistic, quote or other representation about a product or service should be verified with the manufacturer or provider. Writers may have conflicts of interest, and their opinions are their own.